AquaTech
News 2008
Make this site your start page now
Hit CRTL + D to bookmark this page!
---
Hello,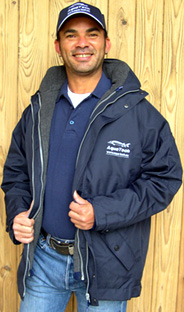 here are the actual AquaTech NEWS and our special offer of the 4th quarter 2008:
Nice, robust and practical working cloths in Harvest design with AquaTech logo in marine-blue for reasonable prices -
1 Peak-Cap with burrfastener, EUR 10,-
1 Polo-Shirt with hiden breastbag, EUR 30,-
1 Fleece-Jacket with detachable sleeve, EUR 50,-
1 Allweather-Jacket with hidable hood, EUR 70,-
All prices in Euro ex works, VAT excl.
Order now all 4 cloths abouve for only EUR 120,- incl. VAT and free delivery!
The Sturgeons and Paddlefishes (Acipenseriformes) of the World: Biology and Aquaculture.
By Martin Hochleithner and Joern Gessner.
This is an english translation of the german book "STÖRE".
Softbound, 208 pages. ISBN 3-9500968-0-9
AquaTech Publications, Kitzbuehel Austria.
Price: EUR 40,-

Sturgeon aquaculture has been developing rapidly over the last 10 years. With recent advancements, the requirements of the industry have been changing and the techniques utilized have been changed and adapted rapidly too. Based on the former Soviet experiences, a new technology has been developed and the background of sturgeon biology has been enlightened in many respects. This work is supposed to close the information gap between scientists and practitioners. The appeal will be far reaching since biologists, field technicians, aquaculturists, fisherman and fish enthusiasts, would all find a wealth of practical information for their field of study. The book has the style of a species synopsis coupled with everything anyone needs to know concerning the reproduction and culture of sturgeons. It summarizes the current knowledge on all sturgeon and paddlefish species worldwide into a practitioner-oriented working guide, including the experience and research data of the authors for more than a decade.

The Bibliography of Acipenseriformes.
By Martin Hochleithner, Joern Gessner and Sergej Podushka.
The most important and compensive bibliography about Acipenseriformes, wich includes nearly all publications from around the world. Over 10000 references are listed alphabetically and cross indexed to species and headings.
Available as E-book on CD-ROM (now including the "CITES Identification Guide" as PDF-file). On request the bibliography is also available printed in folder, over 490 pages (but excluding the CITES Identification Guide). ISBN 3-9500968-1-7
AquaTech Publications, Kitzbuehel Austria.
Price: EUR 80,-
This collection of literature dealing with all species and various topics related to Acipenseriformes is intended to serve as a ready reference for researchers, fisheries managers, aquaculturists and conservationists who work with this ancient fish group. Almost all sturgeon and paddlefish species are threatened or endangered. Information on these fishes is still by no means complete in any field, whether related to sturgeon aquaculture, biology or management. In many aspects sturgeon biology is very different from that of other fishes. Due to the current rate of exploitation, the availability of information might prove crucial for the survival of these species. This is an attempt to improve information concerning the work carried out and to increase its availability.
All Prices in Euro ex works, VAT excl.
Order now all 2 publications abouve for only EUR 110,- incl. VAT and free delivery!
New Books:
Action Plan for the Conservation of Sturgeons (Acipenseridae) in the Danube River Basin.
By Jürg Bloesch, Tim Jones, Ralf Reinartz, Beate Striebel (Eds.).
Paperback, 121 pages (2006).
Six species of sturgeons are native to the Danube River Basin. The need for conservation action is urgent, given that recent observations in the Lower Danube indicate that all sturgeon populations are near extinction. Due to the high commercial value of sturgeon products, in particular caviar, the pressure from proaching and illegal trade remains intense. These species will not survive unless fishing practices are greatly addressed, and both migration routes and habitats for all life-cycle stages are protected. Through national action and international co-ordination, this action plan aims to secure viable populations of all Danube sturgeon species by sustainable management and restoration of their natural habitats and migratory corridors.
Rescue of Sturgeon Species in the Ural River Basin.
By Viktor Lagutov (Ed.).
Hardcover, 333 pages (2008).
This volume is devoted to the uniqueness, history and problems of the Ural river basin, its sturgeons and perspectives of their conservation. The Ural river, the third longest river in Europe, is a unique ecosystem. Unlike other large European rivers the river has not been regulated and the natural hydrological regime is still intact. Thanks to that it has the only remaining spawning habitats in the entire Caspian basin for all sturgeon species. Nevertheless, this fact is not well known to the broader scientific and environmental communities. The Ural river is also an interesting place due to its rich history of sustainable use of aquatic resources in general and sturgeons in particular. The traditional life style of the local communities, Ural Cossacks, was focused on the preservation and rational use of sturgeon species. This interesting experience of sustainable river-related management is not adequately reported in literature. To secure further Ural sturgeon preservation the river basin ecosystem and human activities in the region must be managed in an integrated sustainable manner. The sturgeon species can be used as a natural indicator and an incentive for such transboundary IWRM cooperation taking into account all three components of sustainable development: economic, social and environmental.
Biology, Conservation and Sustainable Development of Sturgeons.
By Ramón Carmona, Alberto Domezain, Manuel García-Gallego, José Antonio Hernando, Fernando Rodríguez, Manuel Ruiz-Rejón (Eds.).
Hardcover, 467 pages (2008).
Sturgeons are considered "living fossils", sharing many morphological and biological features with ancestral fish. Furthermore, sturgeons are of the utmost interest from an economic perspective, not only for the caviar but for the flesh. However, the wild populations of the majority of the species are at serious risk of extinction all over the world. So, it is urgent to develop strategies for both farming culture and conservation and recovery in natural habitats. This book provides a comprehensive view of the biology and sustainable development of sturgeons putting emphasis on the Southern Europe autochthonous species such as Acipenser nacarii and Acipenser sturio that share geographical distribution. Other relevant species (such as Huso huso, A. oxyrhinchus, A. ruthenus, A. stellatus) and areas (Germany, Russia, North America) are also considered. The contents are organised in three sections: Taxonomy and Biogeography (including the morphological and genetic analyses that clarify the taxonomy and phylogeny of sturgeons), Biology and Aquaculture (where several aspects of the developmental biology, feeding, and reproduction are considered in relation to the improvement of sturgeon farming), and Recovery and Conservation (that collates and analyses different recovery research actions, the ecology of the rivers for restoration as well as the problems related to the trade of caviar).
Just let me know if there is any special question,
with best regards
Martin Hochleithner
---
Dear Reader,

here are the actual AquaTech NEWS and our special offer of the 3rd quarter 2008:

We plann and design new fish farms and can offer our service with consulting and one visit on site, starting from EUR 9.990,-

Our service will include a complete project concept with 50-100 page report (see example index), which describe:
1. The species, 2. The farm, 3. The operation, 4. The market and 5. The annex with photos/drawings and costs/offers etc.

We know that this is a lot of money, but we hope you also understand that it is a lot of work and know how and with our service you can avoid misstakes and finally save money. Without a propper concept it is seriously impossible to say exactly how much a fish farm will cost and what is needed, as this depends also on production form and species, stocking and harvesting sizes, feed and feeding, water quality and quantity, infrastructure available, your choices and much much more. As a "master of fish farming", I'm well experienced in aquaculture since more than 20 years, and made allready projects in America, Africa, Asia and specially in Europe. For more details please contact us immediatly!

All prices in Euro, VAT excl.

Aquaculture Sector Planning and Management
By Colin Nash, Hardcover 320 pages (1995).

The primary purpose for producing this book on Aquaculture Sector Planning and Management is to fill the great void for fundamental information needed by planners and administrators in government charged with the responsibilities of organising and managing the relatively new and important food-producing sub-sector, now widely called aquaculture. Secondly, it is intended to be a useful guideline on planning an management processes for anyone in the public or private sectors who has some responsibilty for planning and implementing aquaculture development programmes or projects. Finally, it is a different type of textbook for undergaduate students, including those in the closely related fields of agriculture and environmental sciences on the many issues underlying the development of aquaculture, or that of any other similar field.

Aquaculture Water Reuse Systems: Engineering Design and Management


By M.B. Timmons and T.M. Losordo (Editors), Hardcover 346 pages (1994).

The book provides the reader with essentially all the information required in order to design and manage a water reuse system. The practicality of the layout makes it a valuable reference text. By virtue of its subject matter, and comprehensiveness, this book merits serious consideration for inclusion in the libraries of either commercial producers or research aquaculturists.

Design and Operating Guide for Aquaculture Seawater Systems


By J.E. Huguenin and J. Colt (Editors), Hardcover 332 pages (2002).

This book provides, in one place, basic information and considerations necessary to plan, design, construct, build and operate culture systems (salinities from freshwater to brine). While the book concentrates on general circumstances, situations and concepts, comprehensive referencing of text and annotated bibliographies are provided in critical technical areas to allow readers to pursue specialized areas of interest. This upgraded and expanded Second Edition contains a considerably increased number of numerical examples relative to the first edition to demonstrate practical applications of the concepts and presented data.

Please note that we have closed from 18. July to 17. August due to vaccation.
You can reach me during this time directly on my mobile phone +43/664/1048297
Wish you nice holidays,

Martin Hochleithner
---
Hello,
here are the actual AquaTech NEWS and our special offer of the 2nd quarter 2008:
Probably one of the best stackable and selfsinking plastic traps for the catch of crayfish:
Crayfish-trap with 2 throats, feed basket and bait needle, each EUR 20,-
New Products:
Traps made from plastic
This easy to handle and maintenance free plastic traps have been tested in practice and are suitable for both professional and sport fisherman. Features such as a new shape and correct colouring are the result of fishing expertises. A favorable price/performance rate ensures highest economy in use. Of course the traps are saltwater and corrosion resistant and also resistant to crabs and other pests. This traps (with exchangable components) have an inlet opening of approx. 42 cm and an integrated bait basket in the closed end cap. The traps are specially suitable for catching eels, but can also be used for other fish species as well as crayfish. This traps are delivered complete with plastic covered iron spits (12 mm Ø) for submerging, which guarantee that the trap is allways positioned with the upper closed side on top, which in turn created a protection shelter for the animals.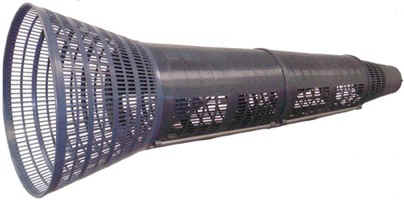 The following versions are available:
1-throat version, approx. 1,0 m long, each EUR 50,-
2-throat version, approx. 1,4 m long, each EUR 70,-
All prices in Euro ex works, VAT excl.
New Books:
Aquaculture in the Ecosystem
By Marianne Holmer, Kenny Black, Carlos M. Duarte, Nuria Marbà, Ioannis Karakassis (Editors), Hardcover, 326 pages (February 2008).
The global expansion of aquaculture production and its future role as a food supplier to human society has environmental, social and economic limitations, affecting marine ecosystems and socio-economic scales from local to global. The expansion is closely linked with human health requirements and societal needs for various goods and services provided by marine ecosystems. This book provides a scientific forecast of the development in aquaculture with a focus on the environmental, technological, social and economic constraints that need to be resolved to ensure sustainable development of the industry and allow the industry to be able to feed healthy seafood products to the future generations. The chapters included discuss the most critical bottlenecks of the development encompassing subjects of understanding the environmental impacts, the current state-of-art in monitoring programs and in coastal zone management, the important interactions between wild and cultured organisms including release of non-native species into the wild, the current trends within the development of aquafeeds along with human health aspects as well as the political, socio-economic and economic trends within the industry including a chapter on approaches taken by Non Governmental Organisations (NGOs) to aquaculture. Finally the last chapter provides different future scenarios of the industry based on the identified bottlenecks.
Introduction to the Practice of Fishery Science
By William F. Royce, Hardcover, 448 pages (1996).

This book is a classic text, with a new chapter on aquaculture, this book provides the background for a first course in fishery science. Intentionally focused on the practical and professional requirements of careers in the management and maintenance of fisheries, this text will be useful to students as well as to established professionals.

Freshwater Fisheries Management
By Robin G. Templeton, Paperback, 256 pages (1995).

The new edition of this widely successful text continues to offer a wealth of essential information and practical guidance for all involved in freshwater fisheries management in temperate regions. Whilst the whole text has been fully revised and many sections have been completely rewritten to cover the many advances and developments of the last decade, the clarity of presentation and accessibility of style, hallmarks of the previous edition, are retained. Once more, the text is primarily concerned with the British Isles. However, the principles described and examples given are widely applicable in many other countries.

Inland Fisheries: Ecology and Management
By Robin Welcomme, Hardcover, 384 pages (2001).
Fish from inland waters provide a major source of animal protein, particularly in areas far removed from the sea. The current high demand for fish, and the increased awareness of the role of the environment in supporting human well being, have led to a situation where attitudes to inland water resources are rapidly changing. This change is part of a larger preoccupation for the long-term stability of ecosystems as well as a concern for the capacity of existing freshwater resources to meet human needs. Policies for conservation and sustainability are being pursued against increasing pressures on natural resources in general. Nowhere are these trends in resource use and environmental impact more evident than in inland waters, which are particularly vulnerable as they act as collectors of all the activities occurring in their basins and rank as some of the most endangered ecosystems in the world. The principal changes influencing the evolution of these vital aquatic resources for fisheries are described in this topical book. Compiled by Robin Welcomme for the Food and Agriculture Organization of the United Nations (FAO), with contributions from several internationally known and respected scientists, this exciting book covers, in depth, the nature of inland waters, the fish populations that live within them, their utilization by fishing industries, and the fishing techniques that these industries use. Comprehensive coverage is also given to evaluation of resources and social and economic issues, management of fisheries and environment, biodiversity and conservation, enhancement, rehabilitation and legislative issues.
Just let me know if there is any special question,
with best regards
Martin Hochleithner
---
Dear Reader,
here are the actual AquaTech NEWS and our special offer of the 1st quarter 2008:
Some of the best meters for water analysis with microprocesor, graphic display, storage memmory, incl. plastic sensor with very long sensor time (approx. 2 years) in a transport case:
OxyScan "light", EUR 490,-
OxyScan "graphic", EUR 690,-
Options und Accessoire:

For all -
Cable extention (incl. plough) per m, EUR 5,-
Measurement extention (to 199,9 mg/l), EUR 70,-
Displayexact analog-output (2 x 0-4 V), EUR 100,-
For OxyScan "light" -
PC-connection (RS-232), EUR 90,-
Relais switch-output (2 A/24 V DC), EUR 90,-
For OxyScan "graphic" -
Sensor for PH-value, 200,-
Sensor for Redox-potential, EUR 100,-
Redox memmory, EUR 250,-
Backgroung illumination, EUR 70,-
Infrared adapter with PC connection (USB od. RS-232), EUR 40,-

Relais switch-output (8 A/230 V AC), EUR 90,-

Stainless steel oxygen-sensor (4,7 mm Ø), EUR 290,-
Stainless steel spit-sensor (5,4 mm Ø)
, EUR 890,-
All prices in Euro ex works, VAT excl.
This "OxyScan" micro dissolved oxygen meters are specially developed for the use in aquaculture and limnology. Through the very stable splashproof cover made from ABS plastic and the delivery including plastic transport case as well as the plastic sensor (14 mm Ø, 150 mm long with 2 m cable and connector) with a very long sensor life (approx. 2 years standby time, physically) they are perfect for field work.
The full graphic display makes the result clear and fast visible. The short polarisation time (approx. 30 sec. max. 5 min.), the low flow current sensitivity (1 % at 5 cm/sec.) as well as the air-pressure and temperature compensation in the range of 5 - 40 °C makes working easy. The automatic calibration with the included calibration chamber is an additional feature.
A free-configurable switching output (24 V DC / 2 A or 230 V AC / 1 A) and exact analogue output or an extended measurement range (up to 199,9 mg/l) are options for all these meters. This meters can also be configured as you wish, e.g. storage, specific control-logic (with switch outputs), customer-specific data format, but it is also possible to extend this system anytime. As options are also available: stainless steel sensors 4,7 to 5,4 mm Ø, 80-400 mm long with 1,5 to 5,0 m cable and connector (other cable lenths on request).
Typ/Model
OxyScan "light"
OxyScan "graphic"
Measurement:
Oxygen (0.0-19.9 mg/l and 0.1-199.9 %sat),
Temperature (0.0-50.0 °C);

Oxygen (0.0-19.9 mg/l and 0.1-199.9 %sat),
Temperature (0.0-50.0 °C),
Air-Pressure (150-1150 mbar);
Precision:
+/-1 digit;
(0,1 mg, 0,5 %sat, 0,5 °C)
+/-1 digit;
(0,1 mg, 0,5 %sat, 0,5 °C, 10 mbar)
Display:
Large full graphic-display with 120 x 32 pixels,
Memory function for up to 50 single-values, displayed directly on the display as diagram or single values

Huge full graphic-display with 128 x 64 pixels, diagrams show the last 30 values;
Memory function for up to 4000 seria-values, displayed directly on the display as diagram or table;
Measurement intervals from 2 seconds up to 10 minutes, starting time and date to set
Furnish:
Manual atmospheric pressure compensation;
Standard (9 V DC) battery for approx. 500 h;
Battery warning on the meter


Automatic atmospheric pressure compensation;
NiMH-accumulator, 2100 mAh (Operating time > 24 hours);
Inclusive fast-charger (charging time about 4 hours);
Battery-monitor on the meter;
Memory keeping (memory active up to 6 months, depending on the measurement period);
Real time clock with date function;
Wireless Infrared-Interface capability for connection with infrared devices;
Options:
RS-232 interface for transmitting actual and saved measurement values to PC, notebook or printer etc.;
Connector for external power supply with (8.2 V DC) accumulator
Infrared-receiver with RS-232 adaptor for non infrared devices;
Single value memory function;
Illuminated display (backlight);
PH-value or Redox measurement
Standard Methods for Examination of Water & Wastewater by Arnold E. Greenberg et al. Hardcover (1999).
The bible of water analysis and THE book of standards! Comprehensive testing of all major pollutants, giving precise instructions for proceedures, preparation of studies as well as current reference data.
Every conceivable method for the chemical, biolgical and physical analysis of fresh, brackish and seawater, biological contaminants and pollutants, are covered in detail. Includes sampling techniques, statistical methods, laboratory apparatus and reeagents, safety setup and calibrations, determination of general water quality parameters, metals, automated analysis, toxicity tests for aquatic organisms, aquatic botany (inclusive plankton sampling), and a special section on the identification of aquatic organisms with color plates.
Now in its 20th edition, this text presents significant improvements of methodology and enlarged its scope to include techniques suitable for examination of many types of samples encountered in the assessment and control of water quality and water pollution.

Analysis of Solids in Natural Waters by Thomas R. Crompton. Hardcover (1996).
The presence of toxic organic and inorganic substances in rivers and oceanic sediments is in part due to man-made pollution. Their monitoring by chemical analysis of oceanic, estuarine, and river sediments or of organisms living in the respective ecosystems are of utmost importance. The purpose of this book is to provide the chemist with all available information for the rapid development and proper carrying out of these methods of analysis. Crompton's book is the first book which covers all kinds of samples including living organisms.

Water Quality Control Handbook by E. Roberts Alley. Hardcover (2000).
This handbook is intended to provide industrial, governmental, and consulting environmental practitioners a quick reference guide to all major areas of water pollution control. Among the topics discussed are the physical, chemical, and biological characteristics of wastewater; monitoring, sampling, and testing methods; the modeling of the effects of pollutants on the environment; effective management, including the establishment of policies and proper documentation; applicable water pollution regulatory standards; and the theory, design recommendations, and practical suggestions for various water pollution control systems.

Pond Aquaculture Water Quality Management by Claude E. Boyd et al. Hardcover (1999).
The only hope of supplying the world's ever-increasing demand for aquatic food products is through aquaculture, and the vast majority of this is conducted in ponds. Although pond aquaculture may appear at first to be an archaic method of growing aquatic animals, it is one that is consistently profitable when the pond is managed properly. The most important aspect of pond management is the maintenance of adequate environmental conditions for good growth and health of the animal under culture. Water quality in ponds also extends into the areas of environmental protection and food quality and safety, which are increasingly important in today's world. This book provides the most complete, up-to-date account of water quality and its management in aquaculture ponds. It provides background information on the physical, chemical, and biological environment of pond aquaculture, and illustrates how the proper balance of these factors is the essential ingredient for successful production of fish and other aquatic animals. Management techniques for the control of water quality and productivity include liming, fertilization, mechanical aeration, water exchange, and the use of algicides and herbicides. The authors examine the effects of pollution on aquaculture and the validity of current criticisms by environmentalists. This book will be of great benefit to students, extension agents, policy-makers, government officials and the commercial aquaculture industry.

New Prices:

Since now we have new pricelist for each product group:

Incubators - Tanks - Feeders - Nets - Pontoons - Meters - Aerators - Electrofishers - Smokers

All other prices on request, please ask for an individual offer.

Best wishes for the New Year,
kind regards

Martin Hochleithner

AquaTech
www.aqua-tech.eu

[News 2007 - News 2006 - News 2005 - News 2004 - News 2003 - News 2002 - News 2001 - News 2000]