AquaTech
News 2006
Make this site your start page now
Hit CRTL + D to bookmark this page!
---
Hello,

here are the actual AquaTech NEWS and our actual offer of the 4th quarter 2006:

Until end of this year we can offer you our "Maritime Technic" pontoon-system (secondhand) for a better price, as follow:

1 m2 Pontoons, sky-blue RAL 5015 (consisting of 4 pontons 50x50x50 cm + 4 bolts) EUR 140,-

Min. order for that special offer are 10 m2.
All prices in Euro ex works, VAT excl.
More Info and Photos
We are present:
METS (Marine Equipment Trade Show) from 14.-16. November 2006 in Amsterdam/Netherlands, Hall 7, Stand 511.
Until the show, we will enclose to every order/delivery 1-2 invitations (each with a value of EUR 100,-).
More information at - www.metstrade.com
Register online NOW!
Hope to welcome you on our stand in Amsterdam,
with best regards
Martin Hochleithner
---
Dear Reader,
here are the actual AquaTech NEWS and our actual offer of the 3rd quarter 2006: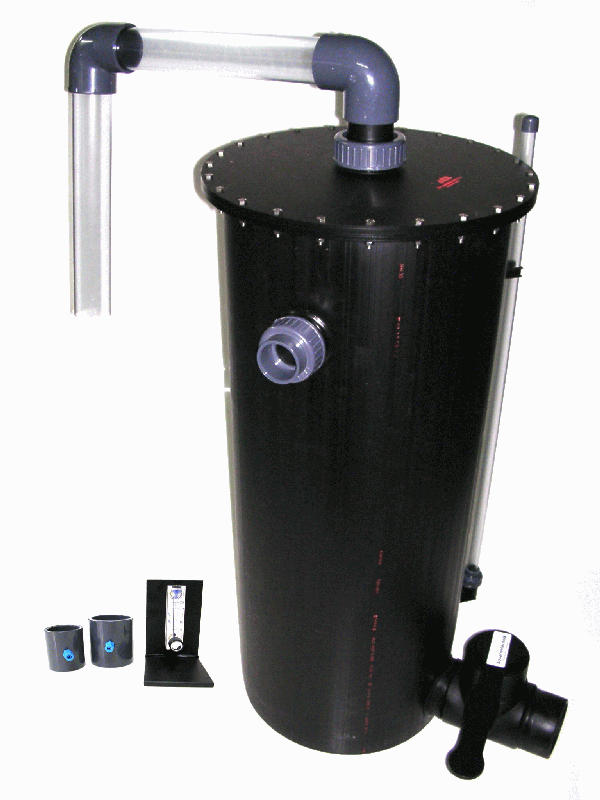 Alternatively to other filter systems we can offer you now a skimmer for freshwater as follow:

1 PE-Freshwater skimmer with 60 l bioreactor, water level display and outlet valve, flow 10-20 m3/h for ponds up to 100-200 m3 volume, diameter 40 cm, hight 120 cm, weight 32 kg (Connections - inlet 50 mm, outlet 110 mm, foam 63 mm) up to 2,5 l/min air suction incl. 50 and 62 mm nozzle and air meter (without pump), EUR 1.990,-

Finaly after more than two years of experiments and tests we can present you a skimmer for fresh water which creates foam like a seawater skimmer. Because of the special design of this skimmer, it is now possible to remove effective waste particles (like: proteins and algae etc.). The skimmer combines in one system 3 different filter processes (mechanical, biological, chemical). The unit does not only remove particles and proteins, but also increase the oxygen content and stabilizes the pH-value the same time. The working principle is very simple but effective, it does not dependent on bacteria and work immediately. It is specially suitable for ponds and fish production or holding units.

All prices in Euro ex works, VAT excl.

New Books:

Tilapia: Biology, Culture and Nutrition.
By Chhorn Lim and Carl D. Webster (Editors), Hardcover 705 pages (May 2006).

Tilapia is the second-most cultured fish species in the world, and its production is increasing each year. However, for several reasons profit margins remain slim. Tilapia: Biology, Culture, and Nutrition presents respected international experts detailing every aspect of tilapia production around the world. Biology, breeding and larval rearing, farming techniques, feeding issues, post-harvest technology, and industry economics are clearly presented. This concise yet extensive reference provides the latest research and practical information to efficiently and economically maximize production in diverse locales, conditions, and climates. This book comprehensively explores all types of tilapia with a detailed biologic description of the fish that takes readers from egg through harvesting. The book authoritatively discusses production issues such as feed nutrition, temperature, water quality, parasites, and disease control to guide readers on how to best encourage fast, efficient growth. Economic and marketing information are examined, including industry data and projections by country. Each chapter approaches a specific facet of tilapia and provides the most up-to-date research available in that area. This resource gives the most current, detailed information needed for effective tilapia farming in one compact economical volume. Extensively referenced with an abundance of clear, helpful tables, photographs, and figures. Tilapia: Biology, Culture, and Nutrition is essential reading for aquaculturists, nutritionists, geneticists, feed formulators and mill operators, hatchery managers, tilapia growers and producers, educators and students etc.

Tilapia Culture.
By Abdel-Fattah M. El-Sayed, Hardcover 320 pages (June 2006).

This book describes, in detail, the principles and practice of tilapia culture. All aspects of the subject are covered, from basic biology, environmental requirements, nutrition and reproduction, to culture in intensive and semi-intensive systems. There is also discussion of stress and diseases, harvesting and marketing of farmed tilapia, the role of tilapia culture in rural development and environmental impact of tilapia culture. Tilapia are sometimes known as "aquatic chicken", due to their high growth rates, adaptability to a wide range of environmental conditions, ability to grow and reproduce in captivity and feed on low trophic levels. As a result, these fishes have become excellent candidates for aquaculture, especially in tropical and subtropical regions. Indeed, tilapia culture has been expanding rapidly, and is now practised in more than one hundred countries worldwide. This book is designed for students, researchers and practitioners in aquaculture.

Tilapia Culture.
By Stephen Goddard, Hardcover 320 pages (July 2007).

Tilapia are an extremely important food fish, caught and cultured throughout the world's sub tropical and tropical regions. The farming of tilapia has increased dramatically during the last decade with global production now exceeding 2,000,000 tonnes per annum; three-quarters of which is from aquaculture.This important new book provides a single key reference covering current methods of tilapia culture including full details of recent advances in methods of husbandry, reproductive technology and genetic improvement of strains for colour, growth, yield and development of new consumer products. Full information on the biological and environmental principles underlying sustainable aquaculture practices is also included.

Please note that we have closed from 15. July to 13. August due to vaccation.
You can reach me during this time directly on my mobile phone +43/664/1048297
Relaxing holidays,

Martin Hochleithner
---
Hello,
here are the actual AquaTech NEWS and our actual offer of the 2nd quarter 2006:
Compact Vortex-Filtersystems made of RGP (green) for holding systems and garden ponds etc.
Row-Vortex (LxWxH) in-/outlet 110 mm Ø, complete with cover, drainage pipe system and filterpackage (Brushes, Matts, Rock):
3-Chamber Row-Vortex 190x65x80 cm, Vortex Ø 60 cm, Flow approx. 6 m3/h for up to 30 m3 ponds volume, EUR 590,-
4-Chamber Row-Vortex 225x65x80 cm, Vortex Ø 60 cm, Flow approx. 8 m3/h for up to 35 m3 ponds volume, EUR 690,-
5-Chamber Row-Vortex 260x65x80 cm, Vortex Ø 60 cm, Flow approx. 10 m3/h for up to 40 m3 ponds volume, EUR 790,-
Center-Vortex (LxWxH) in-/outlet 110 mm Ø, complete with cover and drainage pipe system (50/63 mm Ø):
C20 Center-Vortex 85x85x65 cm, Vortex Ø 45 cm, Flow approx. 4 m3/h for up to 20 m3 ponds volume, EUR 590,-
C30 Center-Vortex 107x107x75 cm, Vortex Ø 50 cm, Flow approx. 6 m3/h for up to 30 m3 ponds volume, EUR 790,-
C50 Center-Vortex 140x140x80 cm, Vortex Ø 75 cm, Flow approx. 9 m3/h for up to 50 m3 ponds volume, EUR 990,-
C80 Center-Vortex 165x165x100 cm, Vortex Ø 95 cm, Flow approx. 12 m3/h for up to 80 m3 ponds volume, EUR 1.490,-
C100 Center-Vortex 193x193x100 cm, Vortex Ø 110 cm, Flow approx. 16 m3/h for up to 100 m3 ponds volume, EUR 1.990,-

Options and Accessoire:
Filter package (Brushes, Matts, Rock, Foam) -
for C20, EUR 190,-
for C30, EUR 290,-
for C50, EUR 390,-
for C80, EUR 490,-
for C100, EUR 590,-

Attention:

The max. pond volume is given for ponds without fish stock, with fishes we recommend the half of the ponds volume!

Holding units with conditioner and recirculation system, for fish and seafood -

An aquarium should be seen as a complex grouping of elements functioning synergetically to maintain constancy of environmental characteristics, countering any variation whatsoever and simulating as far as possible the whole biological cycle that is present in nature and indispensable to the live of the aquatic animals. This futuristic range of aquariums are designed for a working temperature of 10-30 °C and consists of double glass walls in which the two layers of glass are separated by a dry air gap which not only reduces heat and thus energy disperisons but also prevents fogging of the glass when the difference between water temperature and ambient temperature is considerable.They are available with or without integrated refrigerator (chiller) or external climatisator (heater/chiller) and with or without mechanical/biological filter and circulation pump etc. Tables or frames are available as accessoire. Larger isolated holding tanks, on request.

The following modells are ONLY available a short time (until sold out):

Doubble glass aquarium, outside dimensions LxWxH 100x70x50 cm, with external climatisator, filter, pump and UV-C system, EUR 1.990,-
Doubble glass aquarium, outside dimensions LxWxH 120x70x50 cm, with external climatisator, filter, pump and UV-C system, EUR 1.490,-
Doubble glass aquarium, outside dimensions LxWxH 150x70x50 cm, with external climatisator, filter, pump and UV-C system, EUR 2.990,-

All prices in Euro ex works, VAT excl.

Book Tips:

How to Build Ponds and Waterfalls: The Complete Guide
By Jeffrey Reid, Paperback, 80 pages (1998).

How to Build Ponds and Waterfalls was written with the consumer in mind: it's a show and tell presentation of everything needed to build spectacular water gardens. Jeffrey Reid proves that knowing the correct steps and using the right product for the job practically guarantees success. The methods shown in these chapters are proven, and have been taught to thousands of do-it-yourselfers. In an easy-to-read and easy-to-understand format, this book shows readers how to build ponds and waterfalls, as well as providing information about Koi fish, submersible pumps, water lilies, water features, water garden designs, UV lights, rock placement, filter systems, pond fish, marginal plants, preformed ponds, excavating, pond liners, plumbing, and landscaping. Adding a pond or waterfall to your landscape can be very rewarding. "How to Build Ponds and Waterfalls" ensures it will also be successful.

The Ponder's Bible
By Gosta H. Lovgren and Gösta H. Lovgren, Paperback, 178 pages (2000).

The Ponder's Bible is the compleat guide to building and maintaining your very own pond. It has it all from digging the hole to the towering waterfall, including costs. It is fun and easy to read and most importantly ... informative.

Earth Ponds A to Z: An Illustrated Encyclopedia
By Tim Matson and Frank Fretz (Illustrator), Hardcover, 160 pages (2003).

The definitive reference guide to constructed earth ponds. This A-Z guide provides pond owners and builders with an at-a-glance reference to answer any question. From Acid rain to Zooplankton, pond guru Tim Matson defines and explains more than two hundred terms associated with pond building and maintenance, both familiar and obscure. Here the reader will find descriptions and definitions of all significant pond elements. More than two hundred illustrated entries distill the latest information on ponds into a unique and definitive companion for pond owners and builders.

Earth Ponds Sourcebook: The Pond Owner's Manual and Resource Guide
By Tim Matson, Paperback, 176 pages (2003).

In the sequel to his bestselling Earth Ponds, Tim Matson offers new ideas, advice, a wealth of resources, and his trademark wit in this sourcebook full of practical information for pond owners. Those who want to build a new pond today are likely to face tighter regulations on wetlands and complicated questions about building methods; those who already own ponds may wonder how to stock it with fish, how to cure an alga or weed problem, or how to cope with beavers. This book addresses all of these issues, and more.

We exhibit:

Interzoo 2006 - 29. International Trade Fair for Pet Supplies, from 11.-14. May 2006 in Nuernberg/Germany, Hall 5, Stand 209.
Entrance ONLY for professionals or with invitation. Therfore we add until this time, 2 invitations to each order/delivery (value EUR 16,- each).
More information at - www.interzoo.com

Hope to wellcome you on our stand in Nuernberg,
with best regards

Martin Hochleithner
---
Dear Reader,
here are the actual AquaTech NEWS and our new offer of the 1st quarter 2006:
For spawning and raising the following product deliveries just arrived new:
Carp Pituitaries (dry):
1x100 Pieces, EUR 90,-
1x1 Gramm, EUR 290,-

LHRHa (dry):
1x1 mg, EUR 70,-
5x1 mg, EUR 240,-

GnRHa+Domperidon (liquid):
1x10 ml Vial, EUR 70,-
5x10 ml Vial, EUR 240,-
Artemia Cysts (dry):
1x450 g Can, EUR 50,-
5x450 g Can, EUR 190,-
All prices in Euro ex works, VAT excl.

Book Tips:

Hormones and their Receptors in Fish Reproduction
by Philippa Melamed and Nancy Sherwood (Editors), Hardcover, 308 pages (2005).

Research on the molecular aspects of fish reproduction has progressed swiftly over the past few years. With the availability of wide-ranging molecular tools, fish researchers have elucidated many of the molecular mechanisms regulating reproduction which operate in the brain, pituitary and gonad. This research has revealed novel variants of reproductive hormones and their receptors, and has shed new light on the mechanisms through which many of these genes can be activated. Several of the findings, which are reported in this book, have formed the basis for subsequent mammalian research and will also constitute the platform on which new approaches to reproductive management in aquaculture can be developed.

Reproductive Biotechnology in Finfish Aquaculture
by C. S. Lee and E. M. Donaldson, Hardcover, 328 pages (2001).

The successful reproduction of cultured brood stock is essential to the sustainable aquaculture of aquatic organisms. This book describes recent advances in the field of finfish reproductive biotechnology. The chapters in this volume are written by eminent scientists who review the progress and assess the status of biotechnology research that is applicable to the reproduction of finfish species for aquaculture. A wide range of topics is included starting with broodstock technologies such as broodstock genetics, broodstock nutrition, environmental control of maturation and impacts of stress on broodstock, gametes and progeny. The volume includes technologies for induction of ovulation and spermiation using synthetic hypothalamic peptides. Gamete technologies which are described include cryopreservation, chromosome set manipulation, disease prevention and control for gametes and embryos and the development of transgenic fish with enhanced production characteristics. Genetic and endocrine technologies for the production of monosex male and female fish stocks are also described. The closing chapter summarizes the discussion of each topic at the workshop, provides recommendations to industry and describes priorities of research and development. Researchers as well as teaching faculty in the aquaculture field will find this volume of great value.

Artemia Biology
by Robert A. Browne, Patrick Sorgeloos, Clive N. A. Trotman (Editors), Hardcover, 384 pages (1990).

Artemia is widely used in both life-sciences research and aquaculture. Although there are over 4000 references regarding Artemia, the literature is widely scattered. Artemia Biology provides a comprehensive, state-of-the-art review of this literature, containing a considerable amount of previously unpublished data. Although all aspects of Artemia biology are covered, the book emphasizes whole-organism approaches. Topics covered include molecular genetics, ontogeny, clonal diversity, mitochondrial DNA-based phylogeny, and comparisons of Artemia and Parartemia (including a taxonomic key to Parartemia species). The book also contains the latest information on Artemia culturing in fertilized ponds and culture tanks, as well as the use of the organism as a food source. Researchers investigating basic biological questions involving molecular genetics, biochemistry, enzymatic and developmental activities, physiology, ecological genetics and adaptation, ecology, and aquaculture production will find this book indispensable.

Please note:
Since beginning of 2006 we doe not longer send our news by e-mail.
Therefore, to stay informed of all special offers and news please visit this site regularely (i.e. every quarter), so:

Make this site your start page now
Hit CRTL + D to bookmark this page!

Additionally, we have now an easier to remember website address - www.aqua-tech.eu

Wish you all the best for 2006,
with best regards

Martin Hochleithner

AquaTech
www.aqua-tech.eu

[News 2005 - News 2004 - News 2003 - News 2002 - News 2001 - News 2000]