AquaTech
News 2004
To get this news regularly free, just send an e-mail with the word "subscribe" in the subject line.
To be removed from our mailing list just reply to the message with the word "remove" in the subject line.
---
Hello,
here are the actual AquaTech NEWS and our new offer of the 4th quarter 2004:
Electric stainless steel smoker with doubble wall isolation (40 mm), 6 heaters with thermostate (50-300 °C) and timer, 3 racks and drip-pans, complete:
XL-42 (LxWxH), 73 x 52 x 58 cm, 56 kg, (220 V/50 Hz, 2.8 kw) for up to 42 Fish (10 kg Meat), EUR 840,-
Accessoire:
Smoking grid/rack (additional) EUR 25,-
Smoking meal per kg EUR 3,-
Smoking meal additions or herbes-salt per kg EUR 30,-
All prices in Euro ex works, VAT excl.
NEW:
Filet stripe and cube cutter (manually), cutting wide 30 cm, EUR 690,-
This new device made from (V4A) stainless steel allows to cut in a view working steps fish filets (i.e..: hering or salmon) in stripes and afterward in cubes. You can save up to 50 % in working time. After use the device can be cleaned in the dish washer. The size of the stripes and cubes can be choosen in 4 mm intervalls, i.e.: 8, 12, 16 or 20 mm (please mentione at order).
Book Tips:
Fish & Shellfish, Grilled & Smoked
By Karen Adler, Judith M. Fertig, Hardcover, 384 pages (2002).
Fish, often bottom-billed in many barbecue and grilling cookbooks with a few token recipes, succeeds spectacularly as the star of the show in this book. The authors argue that fresh fish and shellfish are a healthier option to other traditional barbecue meats due to their low-fat, low-calorie qualities. There's also wonderful variety, as demonstrated by the 300 recipes - presented in a clean, eye-pleasing layout - that pack this book. In addition, for folks who have a hard time getting fresh fish locally, there's a handy list of fish purveyors. This is a terrific cookbook that would fit nicely on any griller's bookshelf.
Quick and Easy Art of Smoking Food
By Chris Dubbs, et al., Paperback, 200 pages (1991).
For those of you who love the special flavor of smoked food, the authors of this book have updated it for the 90s. Its success over the years has been attributed to the fact that the book covers all you need to know about smoking food.
Home Book of Smoke-Cooking Meat, Fish and Game
By Jack. Sleight, Raymond Hull, Hardcover, 160 pages (1981).
This book discusses smokers you can build, or purchase instead, and also gives tips on how to run your smoker for optimum results. Various fuels to use in smokers are mentioned as well. There is also a chapter on brines and seasonings, and several chapters on how to smoke different foods, including turkey, cheese, sausage, fish, beef, game, and much more.
The Smoked-Foods Cookbook: How to Flavor, Cure, and Prepare Savory Meats, Game, Fish, Nuts, and Cheese
By Lue Park, Ed Park, Hardcover, 224 pages (1992).
Wild game and domestic meats are prepared in any of dozens of marinades and brines, then set in a smoke cooker to absorb the flavor of hickory, applewood, mesquite, chestnut, or maple smoke. Recipes are included for beef, pork, lamb, venison, chicken, turkey, duck, fish, shellfish, jerky, sausages, nuts, cheese, and even pasta. It lists also sources for smoke cookers.
A Guide to Canning, Freezing, Curing & Smoking Meat, Fish & Game
By Wilbur F., Jr. Eastman, Paperback, 231 pages (2002).
This no-nonsense guide to canning, freezing, curing, and smoking meat, fish, and game is written in down-to-earth, informative, everyday language. The third edition of this perennial bestseller is completely revised and updated to comply with the latest health and safety guidelines. Includes dozens of delicious recipes for homemade Beef Jerky, Pemmican, Venison Mincemeat, Corned Beef, Gepoekeltes (German-style cured pork), various bacons and smoked sausages, fish chowder, cured turkey, and a variety of hams. Learn tasty pickling methods for tripe, fish, beef, pork, and oysters. An excellent resource for anyone who loves cured or smoked meat.
Cold Smoking and Salt Curing Meat, Fish and Game
by A. D. Livingston. Paperback, 168 pages (1995)
With this book, Livingston combines a lifetime of Southern culinary knowledge with his own love of authentic home smoking and curing techniques. He teaches how to prepare smoked and salted hams, fish, jerky, and game - adapting today's materials to yesterday's traditional methods. As the author writes, "you can smoke a better fish than you can buy, and you can cure a better ham without the use of any chemicals except ordinary salt and good hardwood smoke." This book shows you how, and includes complete instructions for: preparing salted, dried fish; preparing planked fish, or gravlax; building a modern walk-in smokehouse; constructing small-scale barbecue smokers; choosing woods and fuels for smoking; and salt-curing country ham and other meats, together with over 50 recipes such as Country Ham with Redeye Gravy, Canadian Bacon, Scandinavian Salt Fish, Venison Jerky, and many others.
Fish Drying and Smoking
By Peter E. Doe (Editor), Hardcover, 250 pages (1998).
This book explains the current and traditional fish smoking and drying practices in terms of the basic underlying principles of biochemistry and food technology. Readers will soon become aware of the discrepancies between the basic scientific knowledge and modern technology on one hand, and the traditional processes described in some chapters. This book bridges that gap. The emphasis in this book in on the critical factors which affect the quality of products produced in less technological cultures-products which have been largely neglected in technically advanced countries - and on developments and innovations which have occurred in the last five years. The critical factors affecting the quality of fish products in technically advanced countries have been summarized. The answers to questions on the quality of smoked, cured and dried fish can be found from an understanding of the physical, chemical, and biological factors influencing the functionality of the product at every stage of its preparation and subsequent handling from the time the fish is harvested to the time it is eaten.
We are exhibiting:
EuroTier - International DLG-Exhibition for Livestock, Production and Management
from 9. to 12. November 2004 in Hannover, Germany, Hall 23, Stand E16.
Until this time we enclose to every shippment/delivery 2 VIP-Tickets (vallid EUR 21,- each).
More Information at - http://www.eurotier.de
Hope to welcome you on our stand in Hannover,
with best regards
Martin Hochleithner
---
Dear Reader,
here are the actual AquaTech NEWS and our new offer of the 3rd quarter 2004:
From a large Austrian order we can offer you actually our "Maritime Technic" pontoons in blue colour (RAL 5015) to reasonable prices:
Floating pontoon 50x50x50 cm, each EUR 29,-
Connecting bolt for pontoons, each EUR 4,-
Assembling wrench, EUR 40,-

Additional accessoire as Anchoring holders, Side bars, Bathing ladders etc. on request.

All Prices in Euro ex work (Coevorden/Netherland), excl. VAT.
No minimum order.
Now you can also rent our pontoon system.
To rent the system please contact: AUFTRIEB Werbe GmbH, Krottenbachstr. 82-86 in 1190 Vienna/Austria.
Book Tips:
The Fishes of Tennessee
By David A. Etnier and Wayne C. Starnes, Hardcover, 704 pages (September 2001).
Whether you are an professional ichthyologist, fisheries biologist, a collector of native fishes or just someone who is curious about the aquatic fauna, this is the book for you. Tennessee has more species of fishes found within its borders than any other state of North America. With complete species and taxonomic descriptions of all native and exotic fish, this book also provides intimate details concerning ecology, behavior, and evolution of the class Osteichthyes. Beautiful color photos of living specimens make identification a pleasant experience using the detailed keying information. Though not inexpensive, its price is less than most other books in its class. This book is extremely well written, very easy to read, and should prove an excellent value. It is the most detailed and comprehensive ichthyofaunal guides available.
Inland Fishes of California
By Peter B. Moyle, Chris Mari Van Dyck and Joe Tomelleri (Illustrators), Hardcover, 517 pages (May 2002).
When the first edition of Inland Fishes of California was published in 1976, it was a benchmark reference. Since that time, our knowledge of California's freshwater fishes has dramatically increased. This completely revised edition incorporates a vast amount of new information and creates a fresh synthesis of the historical data. Written by the leading expert on California's freshwater fishes and illustrated with beautiful line drawings, this compendium is the single best source for understanding and identifying the state's freshwater fishes. It is an essential resource for anyone who needs to have accurate and detailed information on all fishes at their fingertips. Since the 1870s, the state's native fishes have been joined by thirty-four alien species, which now dominate many bodies of water. This book treats both native and introduced species, first in a key for identification, and then in individual species accounts covering characteristics, taxonomy, names, distribution, and life history. Each account includes the author's personal assessment of how well the species is doing and problems associated with its management.
Please note that we have closed in August for vacation etc.
Wish you a nice holiday season,
with best regards
Martin Hochleithner
---
Hello,
here are the actual AquaTech NEWS and our new offer of the 2nd quarter 2004:
Right for the comming season we can offer you circular pools as follow:
Circular pool 1600 l volume, 2,0 m Ø, 0,6 m high, EUR 290,-
Circular pool 2600 l volume, 2,0 m Ø, 0,9 m high, EUR 390,-
Circular pool 5700 l volume, 3,0 m Ø, 0,9 m high, EUR 490,-
Circular pool 7800 l volume, 3,0 m Ø, 1,2 m high, EUR 590,-
Circular pool 10600 l volume, 3,5 m Ø, 1,2 m high, EUR 690,-

All prices in Euro ex works, VAT excl.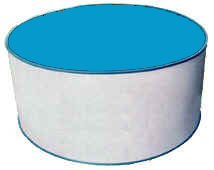 This pools can be placed in or on the ground and consists of a 0.6 mm strong galvanized iron wall which is painted inside and plastic covered outside. The lower and upper bottom- and hand-rails are made of strong plastic to ensure a long selflife. Inside the pools are lined with a 0.8 mm strong PVC liner with exact fitting in black colour (on request also in blue).
If prefered we deliver also just the soft but robust PVC pond liner in a thickness of 0.5 to 1.5 mm in the colours black, green or blue, on coils with a wide of 2-8 m and a length of 15-50 m, or as finished liners in any size. Price on coils per m2 EUR 2,- to 19,-
How to Build Ponds and Waterfalls: The Complete Guide
By Jeffrey Reid, Paperback, 80 pages (1998).
How to Build Ponds and Waterfalls was written with the consumer in mind: it's a show and tell presentation of everything needed to build spectacular water gardens. Jeffrey Reid proves that knowing the correct steps and using the right product for the job practically guarantees success. The methods shown in these chapters are proven, and have been taught to thousands of do-it-yourselfers. In an easy-to-read and easy-to-understand format, this book shows readers how to build ponds and waterfalls, as well as providing information about Koi fish, submersible pumps, water lilies, water features, water garden designs, UV lights, rock placement, filter systems, pond fish, marginal plants, preformed ponds, excavating, pond liners, plumbing, and landscaping. Adding a pond or waterfall to your landscape can be very rewarding. "How to Build Ponds and Waterfalls" ensures it will also be successful.
The Ponder's Bible
By Gosta H. Lovgren and Gösta H. Lovgren, Paperback, 178 pages (2000).
The Ponder's Bible is the compleat guide to building and maintaining your very own pond. It has it all from digging the hole to the towering waterfall, including costs. It is fun and easy to read and most importantly ... informative.
Earth Ponds A to Z: An Illustrated Encyclopedia
By Tim Matson and Frank Fretz (Illustrator), Hardcover, 160 pages (2003).
The definitive reference guide to constructed earth ponds. This A-Z guide provides pond owners and builders with an at-a-glance reference to answer any question. From Acid rain to Zooplankton, pond guru Tim Matson defines and explains more than two hundred terms associated with pond building and maintenance, both familiar and obscure. Here the reader will find descriptions and definitions of all significant pond elements. More than two hundred illustrated entries distill the latest information on ponds into a unique and definitive companion for pond owners and builders.
Earth Ponds Sourcebook: The Pond Owner's Manual and Resource Guide
By Tim Matson, Paperback, 176 pages (2003).
In the sequel to his bestselling Earth Ponds, Tim Matson offers new ideas, advice, a wealth of resources, and his trademark wit in this sourcebook full of practical information for pond owners. Those who want to build a new pond today are likely to face tighter regulations on wetlands and complicated questions about building methods; those who already own ponds may wonder how to stock it with fish, how to cure an alga or weed problem, or how to cope with beavers. This book addresses all of these issues, and more.
Just let us know if there is any special question,
with best regards
Martin Hochleithner
---
Hello,
here are the actual AquaTech NEWS and our new offer of the 1st quarter 2004:
For the comming season we can offer you now ornamental fish as follow:
Species - Size - Price - (Packing/Box) -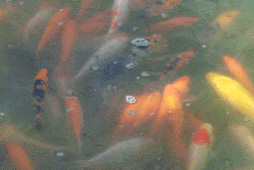 Koi:
6-9 cm each EUR 0,4 (500 p.);
9-12 cm each EUR 0,6 (300 p.);
12-15 cm each EUR 0,8 (120 p.);
15-20 cm each EUR 2,- (40 p.);
20-25 cm each EUR 5,- (20 p.);
25-30 cm each EUR 9,- (10 p.);
30-35 cm each EUR 22,- (5 p.);
Shubunkin and Sarasa:
4-7 cm each EUR 0,3 (1000 p.);
7-10 cm each EUR 0,4 (500 p.);
Packing per Box (20 kg max.), EUR 5,-
Other sizes or species on request.
All prices in Euro ex works, VAT excl.
The Cult of the Koi
By Michugo Tamadachi, Hardcover.
This book is an excellent reference for beginners and experts as well. It gives a great overview of the history of Japanese, Domestic and German Koi. It gives an excellent review of the different types of Koi that help in identification. Koi dealers says that their consensus is that Cult of the Koi is by far the best they have ever seen.
Koi: Living Jewels of the Orient
By Steve Hickling, Mick Martin and Nick Fletcher (Editors), Hardcover, 208 pages.
In Japan, breeding koi - a colorful and beautiful member of the carp family - has occupied a position between hobby and art form for more than two centuries. This stunningly illustrated book, compiled by a team of koi experts, shows and tells aquarium enthusiasts virtually everything they need to know about this fascinating activity. Koi are hardy fish, relatively large in size, and the most practical way to keep them is in an outdoor pond. Combining text with illustrations, an important section of the book explains the requirements of a garden pond for koi, showing the filtration system and pointing out how it functions. Most of the book concentrates on koi themselves, focusing on a brief history of koi, advice on buying koi, the fish's physiology, health care, feeding, breeding koi, showing koi, and joining koi clubs. An 80-page section tells all about koi variations, and features color photos of more than 100 varieties. Illustrated two-page spreads review each variety's history, and show both their more desirable and less desirable color markings. Here is a beautifully designed and illustrated volume that emphasizes the special satisfactions of keeping and breeding koi. Approximately 450 color photos and illustrations.
The Professional's Book of Koi
By Anmarie Barrie, Hardcover, 159 pages.
This book is a superbly presented full-color guide to the art of raising colorful Japanese carp. Over 150 photographs and drawings illustrate an informative and seminal volume that is as practical as it is fascinating. Individual chapters address proper aeration and filtration of Koi ponds, steps to ensure proper nutrition and health, koi breeding and exhibitions, and much more. The Professional's Book of Koi is a truly first-class reference for anyone with an interest in learning about and raising koi.
The Ultimate Koi
By Nick Fletcher (Editor), Hardcover, 256 pages.
Bringing together the expertise of a panel of world authorities, this exquisite book examines Japan's celebrated ornamental carp in extraordinary detail. The Ultimate Koi is presented in five sections encompassing 29 chapters and covering all aspects of the Koi itself, the pond, care essentials, ways to enjoy these fish and references featuring six important topics on successful Koi management. The book is fully illustrated in breath-taking color, a must-have for every amateur and professional connected with the hobby.
Results:
The results from our survey from the last month where better than we tough and as follow:
60 % rated good, 0 rated bad;
80 % rated quarterly, 0 rated yearly;
77 % rated products, 1 rated news.
Therefore we will send our news only quarterly, and may inform you about special news seperately. We thank all participants for their opinion. Of course we are also open for any additional suggestion and will try to follow it, if possible.
We are present, at:
Fish International 2004 - 9th International Trade Fair for Fish and Seafood, from12. to 15. February 2004 in Bremen, Germany, Hall 4, Stand B-13.
Until this time we enclose to every shippment/delivery 2 VIP-Invitations (vallid EUR 35,- each).
More information at - http://www.fishinternational.com
Hope to welcome you on our stand during the Fish International in Bremen,
with the best wishes for
a happy and sucessfull New Year 2004
Martin Hochleithner
AquaTech
http://www.aquatech.8m.com
Falls Sie unsere Neuigkeiten lieber in deutsch erhalten möchten, lassen Sie es uns bitte wissen! Danke ;-)