AquaTech
News 2003
To get this news regularly free, just send an e-mail with the word "subscribe" in the subject line.
To be removed from our mailing list just reply to the message with the word "remove" in the subject line.
---
Dear Reader,
here are the actual AquaTech NEWS and this time no new offer of the month (December 2003), but a small present to download for free:
CITES IDENTIFICATION GUIDE - Sturgeons and Paddlefish
By Paul Vecsei, Richard Charette, Martin Hochleithner, Ilya Trukshin, Tamara Maliepaard and Yvan Lafleur. Environment Canada.
Guide to the Identification of Sturgeon and Paddlefish Species Controlled under the Convention on International Trade in Endangered Species of Wild Fauna and Flora.
Text in English, French, and Spanish. 180 pages as PDF-file (10.7 MB).
Survey:
In order to improve our newsletter, we would be pleased if you could find the time to fill out the form below and submitt it:
Thanks for your opinion and participation,
nice seasons greetings
Martin Hochleithner
---
Dear Reader,
here are the actual AquaTech NEWS and our new offer of the month (November 2003):
Now available ... new flat universal scales with corrosion free platform:
Model
BL-60
BL-150
BL-300

VS-200

Range to
60 kg
150 kg
300 kg
250 kg
Division
20 g
50 g
200 g
100 g
Dimensions

550 x 550 x 55 mm

900 x 550 x 55 mm

Price/unit

EUR 490,-

EUR 590,-
This new flat scales with stable base, 4-cell measurement technique and corrosion free platform made from stainless steel (only 55 mm high) are universally to use. The removable display with spiral cable, 25 mm LCD digits and 100 % tara function can also be mounted on a wall. It is possible to select continous display or automatic switch off. The energy supply over an rechargable accumulator with charger allows a mobile use.
The model VS is abailable for use with accumulator or net connection and has additionally two inserted transport wheels on the side and on the opposide side a handle.
We deliver also: Precision-, Analyse-, Table-, Floor-, Crane- and Pocket-Scales, for ranges up to 5 t and a division from 0,0001 g on!
All prices in Euro ex works, VAT excl.
Just let me know if there is any special question,
with best regards
Martin Hochleithner
---
Hello,
here are the actual AquaTech NEWS and our new offer of the month (October 2003):
Use a vacuum packing machine to extend the self live of your seafood or fish products -
| | | | | | | |
| --- | --- | --- | --- | --- | --- | --- |
| Typ | Chamber dimensions BxLxH mm | Total dimensions BxLxH mm | Sealing bar mm | Pump m3/h | Power kw | Price EUR |
| Mini | 280x310x80 | 317x438x293 | 280 | 4 | 0,6 | 1.490,- |
| Plus | 280x310x120 | 317x438x293 | 280 | 8 | 0,8 | 1.990,- |
| Super | 350x370x135 | 450x510x420 | 350 | 16 | 1,1 | 2.490,- |
| Jumbo | 420x370x135 | 480x515x440 | 350 | 16 | 1,1 | 2.990,- |
| H-100 | 320x370x135 | 380x515x425 | 350 | 21 | 1,6 | 2.990,- |
| H-150 | 350x370x135 | 450x515x425 | 350 | 16 | 1,1 | 2.990,- |
| H-200 | 420x370x170 | 480x515x440 | 420 | 21 | 1,6 | 3.490,- |
| H-220 | 420x460x170 | 480x610x440 | 420 | 21 | 1,6 | 3.990,- |
At this table models the vacuum chamber and housing is made from stainless steel and the high transparent lid of acryl glas. An easy and automatic working process is possible through the analog process time control pane (and from typ "100" on also through the digital sensor control with 10 programs). The machines have a single sealing bar configuration (single time sealing-cutting system on request) and are also available with a double sealing bar configuration from typ "200" onward. A gas injection system and soft-air ventilation is also possible from typ "200" onward. The professional vacuum pump 230 V/50 Hz (vacuum time 10-60 seconds) and back ventilation guarantee a service friendly construction. A liquid insert-plate is available as accessoire.
Options and Accessoire:
Liquid insert-plate, EUR 90,-
Sealing-cutting system (from Typ Plus on), EUR 190,-
Digital Sensor-control (from Typ 100 on), EUR 190,-
Gas Injection-system (from Typ 200 on), EUR 190,-
Second Sealing-bar (from Typ 200 on), EUR 290,-
Adaption as movable stand-unit (only Typ 200), EUR 490,-
Larger moveable floor models or doubble chamber systems on request.
All Prices in Euro ex works, VAT excl.
Just let me know if there is any special question,
with best regards
Martin Hochleithner
---
Dear Reader,
here are the actual AquaTech NEWS and our new offer of the month (September 2003):
For the production of flake ice, which keeps fish and seafood longer fresh, we can recommend as follow:
Flake-Ice machine 70 kg/day* (consumption 0,42 kw), EUR 4.990,-
Flake-Ice machine 120 kg/day* (consumption 0,62 kw), EUR 5.990,-

All Prices in Euro ex works, VAT excl.
Offer each in 230 V/50 Hz, with integrated storage container (40 mm isolated) for 70 kg ice.

As option (for + EUR 300,-) a shift key for eligible ice temperature is available which allows to produce ice with a temperature of eighter -8 °C or only -2 °C (idealy for fresh fish and seafood).
This scale ice makers are made of high quality stainless steel and plastics, have compact and small dimensions and a high production capacity. They are easy to use and highly economic, the innovative technique guarantees a stable quality of the flake ice. All machines are FCKW-free (R 404 a), have adjustable feets and an automatic water remover. Other voltages, larger machines (also without refrigeration unit) or water cooled units on request.
* Capacity in 24 h at a temperature of +18 °C ambient-air and +12 °C water-supply as well as -8 °C flake-ice.
Fish Processing Technology
By G. M. Hall (Editor), Hardcover, 292 pages (1996).
Written as an overview of the field for industrialists wishing to improve and diversify their operation, provides coverage of modern aspects of traditional fish processing technologies, and practical descriptions of important new areas. The first five chapters cover fish biochemistry affecting processing, curing, surimi and fish mince, chilling, freezing, and canning. The final four chapters focus on the increasing globalization of the fish processing industry and the demands, from legislation and the consumer, for better quality and safer products.
Seafood Safety, Processing, and Biotechnology
By Fereidoon Shahidi, Yvonne Jones and David D. Kitts (Editors), Paperback, 266 pages (1997).
Research and development of seafood continues to be productive in terms of new and improved products for both food and non-food purposes. The use of biotechnology, microbiology, computer modeling and advanced analytical techniques has led to improvements in processing and product safety. This recent book provides extensive new information on these developments. The 25 reports were prepared by food scientists specializing in seafood. The reports are well illustrated with numerous schematics and some micrographs. Extensive reference data is provided in tables and graphs.
Safety and Quality Issues in Fish Processing
By H. Allan Bremmer (Editor), Hardcover, 507 pages (2002).
Summarizes important new research on improving quality in fish processing. Covers key processing and preservation technologies ranging from traditional fish drying to high pressure processing. Useful for industry technologists, consultants, researchers, and graduate students, this work surveys issues and solutions in safety and quality in the fish processing industry, with sections on ways of ensuring safe products, aspects of fish quality, and improving quality throughout the supply chain. HACCP systems are covered in depth, and there is material on identifying and controlling hazards from pathogens, toxins, parasites, and heavy metals. Methods for modeling and predicting shelf life are examined, and processing and preservation technologies are covered.
Seafood Enzymes: Utilization and Influence on Postharvest Seafood Quality
By Norman F. Haard and Benjamin K. Simpson (Editors), Hardcover, 681 pages (2000).
There are two main reasons to study enzymes from aquatic animals. First is that, though many of the enzymes are also found in terrestrial life forms, they may exhibit vastly different properties with respect to stability, temperature optimum, secondary substrate, and other features because of adaptation to organisms living in various habitat conditions. The other reason is that seafood spoils as quickly when it is microbially sterile as when not, indicating that the spoilage is due to action of native enzymes rather than outside pathogens, and food scientists need to take that into account when attempting to protect seafood quality. Contributors from many of the seafaring nations discuss the different between seafood enzymes and others, a number of specific enzymes, their role in food quality, controlling enzyme activity in seafoods, and industrial applications of the enzymes.
Please let me know if there is any special question,
with best regards
Martin Hochleithner
---
Dear Reader,
here are the actual AquaTech NEWS and our new offer of the month (July 2003):
Now a new aerator with biofilter for your ornamental fish or garden pond is available:
Quirl Propeller-Screw Aerator (3-18 V DC) 3.6 m3/h EUR 390,-
Solarpanel (solar powered), EUR 90,-
Transformer (net powered), EUR 50,-
All Prices in Euro ex works, VAT excl.
The Ponder's Bible
By Gosta H. Lovgren and Gösta H. Lovgren, Paperback, 178 pages (2000).
The Pond Owner's Problem Solver: Practical and Expert Advice on Designing, Stocking and Managing Ponds
By John Dawes, Hardcover, 208 pages (1999).
Earth Ponds A to Z: An Illustrated Encyclopedia
By Tim Matson and Frank Fretz (Illustrator), Hardcover, 160 pages (2003).
Earth Ponds Sourcebook: The Pond Owner's Manual and Resource Guide
By Tim Matson, Paperback, 176 pages (2003).
How to Build Ponds and Waterfalls: The Complete Guide
By Jeffrey Reid, Paperback, 80 pages (1998).
In August we will have closed for vacation,
therefore the next news and offers will follow in September.
You can reach me directly at mobile phone: +43/664/1048297
Nice holidays,
yours
Martin Hochleithner
---
Hello,
here are the actual AquaTech NEWS and our new offer of the month (June 2003):
Use an advanced and undependent solar powered feeding system for the optimal and controlled feeding of your fish or prawn: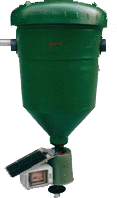 Solaris Feeder "Intervall" (without hopper) EUR 260,-
Solaris Feeder "Superspreader" (without hopper) EUR 390,-
Solaris Feeder "Pendulumspreader" (without hopper) EUR 210,-

Feed hopper 25 l volume, EUR 50,-
Feed hopper 45 l volume, EUR 70,-
Feed hopper 90 l volume, EUR 90,-
Pipe holder hopper support, EUR 25,-

All Prices in Euro ex works, VAT excl.
Handbook on Ingredients for Aquaculture Feeds
By Joachim W. Hertrampf, Felicitas Piedad-Pascual and Sik Lee Ong (Illustrator), Hardcover 624 pages (2000).

Aquaculture - the commercial farming of aquatic organisms in a controlled environment - requires formulated diets composed of various ingredients. This Handbook aims for a better understanding of the food components that affect nutrition and feeding of cultured fishes and crustaceans. Proper utilisation of these foodstuffs can minimise environmental pollution and degradation. An overview of the nutrition of aquatic animals precedes the discussion of each foodstuff. Traditional and non-traditional ingredients are considered in alphabetical order. To evaluate the value of each foodstuff, information is provided on its origin, economical significance, manufacture and processing followed by chemical, physiological and other properties. An important feature of the Handbook is the discussion of the feeding value of each ingredient and recommendations for inclusion rates, legal aspects and precautions for their use. There are 52 chapters in which 144 individual ingredients are considered. Included for easier understanding of the text are 443 tables and 80 figures with approximately 1500 references. The Handbook is a guide for anyone interested in aquaculture.

Nutrition and Utilization Technology in Aquaculture
By David J. Sessa and C. E. Lim (Editors), Hardcover 288 pages (1995).

Provides an overview of the current status of aquaculture and discusses constraints and opportunities for aquaculture development. Current issues in salmonid nutrition, recent developments in catfish, red drum, larval fish, and penaeid shrimp nutrition, along with lipid nutrition, and the importance of fatty acids and phospholipids in aquaculture are also included. Nutritional values of plant protein products/by-products as alternative sources of protein in aquaculture diets are presented. Sensory evaluation techniques to ensure high- quality products and the technology to produce value-added products from fish processing discards are also discussed.

Nutrient Requirements of Fish
By Committee on Animal Nutrition, Board on Agri National Research Council, Paperback 114 pages (1994).

A subcommittee of the National Research Council reports on dietary requirements; materials in feedstuffs other than nutrients that may affect physical, palatability, or nutritional properties of the feed or metabolism of the fish; antinutrients and adventitious toxins; digestibility and absorption; diet formulation and processing; and feeding practices of various specifies. This edition combines data on all species of finfish having commercial significance (new research indicates that because of their similarities, coldwater and warmwater species do not warrant separate reports as has been done in the past).

Nutrient Requirements and Feeding of Finfish for Aquaculture
By Carl D. Webster and Chhorn Lim (Editors), Hardcover 416 pages (2002).

Provides a unique, complete coverage of current information on nutrient requirements, feed formulations and feeding practices of commercially important aquaculture species cultured around the world. Of interest to those working professionally in the industry, graduate level students and researchers. Good nutrition is fundamental to the success and sustainability of the aquaculture industry in terms of economics, fish health, high quality product production and minimizing environmental pollution. This book provides a unique, complete coverage of current information on nutrient requirements, feed formulations and feeding practices of commercially important aquaculture species cultured around the world. Each chapter contains detailed feeding information on specific species and is written by an expert nutritionist on that species. The book is of interest to those working professionally in the industry, graduate level students and researchers.

Nutrition and Feeding of Fish
By Tom Lovell (Editor), Hardcover 280 pages (2002).

Aquaculture is now recognized as a viable and profitable enterprise worldwide. As aquaculture technology has evolved, the push toward higher yields and faster growth has involved the enhancement or replacement of natural foods with prepared diets. In many aquaculture operations today, feed accounts for more than one-half the variable operating cost. Therefore, knowledge of nutrition and practical feeding of fish is essential to successful aquaculture. This book is not written exclusively for scientists but also for students, practicing nutritionists, and aquaculturists. It covers the known nutrient requirements and deficiency effects for different fishes, and digestion and metabolism of nutrients and energy. It discusses nutrient sources and preparation of practical and research feeds. It gives directions for conducting fish nutrition and feeding experiments. Feeding practices for salmonids, channel catfish, tilapias, shrimps and hybrid striped bass are presented. Since the first edition of this book was printed, the National Research Council of the National Academy of Sciences has revised the nutrient requirements for fish. These revisions are in the present edition. Other additions to this revised second edition are chapters on nutrition and fish health, and bioavailability of nutrients. Each original chapter has been meticulously revised and updated with new information. Aquaculture is a dynamic area and new technologies are being introduced continuously; therefore, some of the material discussed in this revised edition may become obsolete quickly. Nonetheless, the material presented has been thoughtfully selected and updated to make it of maximum use to persons whose interests range from general aquaculture to animal nutrition to feed manufacture.

Fish Nutrition
By John E. Halver, Ronald W. Hardy and Daniel M. Hardy (Editors), Hardcover 500 pages (2002).

This third edition of Fish Nutrition has been updated with selections from a myriad of publications which have appeared in the past decade. The authors have focused on selected demonstrations of nutrient requirements and metabolism which summarize the basis and applied principles of fish nutrition. It continues to review "what we know and what we do not know" to stimulate research and better understanding of the nutrient requirements and their role in growth, production, and fish health as more and more effort is concentrated on using fish as the best animal for protein and food production.

Fish Nutrition in Aquaculture
By Sena S. De Silva and Trevor A. Anderson, Hardcover 340 pages (1995).

Aquaculture is a growing industry. A vital component of the subject is feeding the organisms under cultivation. This book provides a thorough review of the scientific basis and applied aspects of fish nutrition in a user-friendly format. It will be of great use to individuals working or training in the industry, and to fish feed manufacturing personnel. The present volume addresses both the basic concepts of nutrition of finfish and the practical aspects of nutrition pertaining to the aquaculture industry. It discusses the present status of the aquafeed industry and deals with new ideas on feed-cost saving, particularly in semi-intensive aquaculture. The potential problems relating to environmental pollution associated with feeds and feeding are also addressed.

Feed Management in Intensive Aquaculture
By Stephen Goddard, Hardcover 194 pages (1996).

This book is a guide to the management and use of formulated feeds in semi-intensive and intensive fish and shrimp culture. Feeds represent the major variable operating costs in intensive aquaculture, and optimizing their use represents an opportunity for many farmers to increase or maintain the profitability of their enterprise. Fish farmers have an ever widening range of feed types and feeding methods from which to choose, and must carefully monitor the use of feeds in order to control costs. This book includes details of those biological, environmental, and nutritional factors which influence the feeding, growth and survival of fish and shrimp, and of which some understanding is essential in the establishment of effective feeding practices. Details are given of feed handling and storage methods, and the various methods available for feeding fish are described and their relative methods appraised. Methods for selection of the appropriate feed types, ration sizes, and feeding schedules are included, and details given of how to measure performance of feeding programs. Throughout the text reference is made to key areas of current research, and examples are drawn from different sectors of the industry to illustrate the general principles of feed management.

Feeding Ecology of Fish
By Shelby D. Gerking, Hardcover 416 pages (1994).

A comprehensive review of the literature, useful both to fisheries scientists and to theoretical ecologists, constructs a comprehensive framework for understanding the variable feeding patterns of fish. Synthesizes a broad range of empirical studies to categorize patterns by trophic level: plant eaters and detritus feeders, and plankton, benthic, and swimming predators. Food Intake in Fish
By

Dominic Houlihan, Thierry Boujard and Malcolm Jobling (Editors),

Hardcover 440 pages (2001).

A comprehensive book covering in depth all major aspects of food consumption by fish. It is of vital importance to all those involved in the aquaculture industry.

Just let me know if there is any special question,
with best regards

Martin Hochleithner
---
Dear Reader,
here are the actual AquaTech NEWS and our new offer of the month (May 2003):
Use this floating Aerator-Pump to create a fontain spray pattern:
"Spray" Pump Aerator 0.3 to 1.0 HP floating (220 V/50 Hz), EUR 190,-
"Spray" Pump Aerator 1.4 to 2.4 HP floating (380 V/50 Hz), EUR 290,-

All Prices in Euro ex works, VAT excl.

This "Spray" aerator pump is specially suitable for ponds and introduce a lot of oxygen into the water. If the self floating pump is connected with the spray nozzle it becomes an aerator with fontain spray pattern. If the supplied nozzle is changed to the supplied pipe adaptor it can be used as a floating pump for irrigation. The change of theese two functions doesn't need any tool. They have a very reasonable price and are easy to install, eighter floating on the water surface or submerged to depth (with an anchor stone).
Just let me know if there is any special question,
with best regards
Martin Hochleithner
---
Hello,
here are the actual AquaTech NEWS and our new offer of the month (April 2003):
Ideal probes for your own oxygen monitors such as multichannel or stand-alone PLC based systems:
1 Oxygen probe with temperature sensor, each EUR 340,-
1 Oxygen probe without temperture sensor, each EUR 290,-
10 Oxygen probes without temperature sensor, each EUR 240,-
50 Oxygen probes without temperature sensor, each EUR 190,-
Cable (2-core), per meter EUR 5,-
All Prices in Euro ex works, VAT excl.
High performance, very robust galvanic oxygen probe for the measurment of dissolved oxygen in water and air. Optionally available also with a temperature sensor. The probe with strong teflon membrane (which is supplied with a pack of 5 membranes and 50 ml of electrolyte) calibrates to 100% in air, is self-temperature compensating (from 0 to 40 °C), very accurate (usually better than +/- 0.2 mg/l) and has no zero point error. It has completely sealed internals, so there is no risk of insulation failure, is very easy to maintain, can be serviced in the field and is very stable (usually 3 to 6 months between calibration checks). It is connected with good quality two core cable (tested up to 2000 m).
New Books:
Restoration of Puget Sound Rivers
By David R. Montgomery (Editor), et al.
Binding: Paperback
Publication date: February 2003
Price: $ 30.00
North Atlantic Seafood: A Comprehensive Guide with Recipes
By Alan Davidson
Binding: Paperback
Publication date: February 2003
Our Price: $ 17.47 - You Save: $ 7.48 (30%)
Fly-Fishing Western Trout Streams
By Jim McLennan
Binding: Paperback
Publication date: February 2003
Our Price: $ 11.87 - You Save: $ 5.08 (30%)
Aquarium Fish Breeding
By Jay F. Hemdal
Binding: Paperback
Publication date: February 2003
Our Price: $ 9.56 - You Save: $ 2.39 (20%)
Aquarium Sharks & Rays: An Essential Guide to Their Selection, Keeping, and Natural History
By Scott W. Michael, et al.
Binding: Hardcover
Publication date: February 2003
Our Price: $ 31.47 - You Save: $ 13.48 (30%)
Sharks and Rays (Junior Adventure)
By Sharon Dalgleish
Binding: Library Binding
Publication date: February 2003
Price: $ 17.95
Just let me know if any special question,
with best regards
Martin Hochleithner
---
Dear Reader,
here are the actual AquaTech NEWS and our new offer of the month (March 2003):
Design Ozone Generators to your requirements for oxidation, purification and disinfection, and extend it when your demand increase, with the following components:
RMU-04, O3-Generator 4 g/h at 5 l/min dry air, 105 Watt, EUR 1.490,-
RMU-08, O3-Generator 8 g/h at 10 l/min dry air, 210 Watt, EUR 1.990,-
RMU-16, O3-Generator 16 g/h at 16 l/min dry air, 420 Watt, EUR 2.990,-

RMC-02, Controller + Air Dryer for up to 2 RM modules, EUR 2.990,-
RMC-12, Controller for up to 12 RM modules, EUR 1.990,-
VMD-16, Air Dryer for up to 10 RM modules, EUR 2.990,-
BBC-01, Balance Barometer for all modules, EUR 90,-

RS-03, Tower/Rack for up to 3 RM units, EUR 390,-
RS-06, Tower/Rack for up to 6 RM units, EUR 490,-
RS-08, Tower/Rack for up to 8 RM units, EUR 590,-
RS-10, Tower/Rack for up to 10 RM units, EUR 690,-

Other generators and accessoire on request.
All Prices in Euro ex works, VAT excl.
The most effective way to produce ozone commercially is through the use of pulse injected corona discharge. All ozone generators have a power switch, fuses against voltage surges, cooling fans and flow meter and can be feed dry air or oxygen, free of dust and oil (max. pressure ± 0.36 bar). The ozone output range from 5-17 g/h at a concentration of 3-38 g/m3 when 1-19 l/min are feed (0.1-6.0 % from dry air). A minimum air flow is not required. If oxygen is feed instead of air, the ozone output can be doubbled approximately. The power consumption is typically 8 Watt/g O3 based on O2, cooling included. The dryers are vacuum driven and have a dewpoint of -60 °C or better which results in high ozone output (over 98 %). The controller includes an indicator (blue crystals), sensor with interlock and status light as well as time clock for real ozone demand evaluation. Each of this generator and the dryer/controller module have dimensions of WxH 431x177 mm (17x7 ") and can be set on shelf or fitt also on tower-racks 508 mm (20 ") deep, for 3 to 10 units. Each module has a weight of 8-14 kg only. All units are cooled by ambient air (± 35-40 °C, max. 85 % R.H.) and are available for 110 or 230 V/50 or 60 Hz.

Ozone is a naturally occurring gas created from oxygen atoms. The oxygen molecule is made up of 2 oxygen atoms. These oxygen molecules are broken into atoms by the corona discharge during lightning storms or by UV light from the sun. Single oxygen atoms cannot exist alone without regrouping back into di-atomic oxygen molecules. During this recombination stage some atoms will regroup into loosely-bonded tri-atomic oxygen. This new molecule is called Ozone. Due to the loose bond in this oxygen molecule - ozone is a very strong oxidant and an ideal chemical-free purification and a disinfecting agent.
Disinfection by tri-atomic oxygen (Ozone) occurs through the rupture of the cell wall. This is a more efficient method than Chlorine which depends upon diffusion into the cell protoplasm and inactivation of the enzymes. An ozone level of 0.4 ppm for 4 minutes has been shown to kill any bacteria, virus, mould and fungus. Ozone therefore will inactivate viruses on contact, even at very low residual concentrations.
Most tastes and odors in water supplies come from naturally-occurring or manmade organic material contamination. Bacterial decomposition of humic material imparts taste to surface waters. The action of algae and actinomycetes gives rise to objectionable tastes. Chlorination of humic material leads to chlorophenols that are of far stronger odor and more antigonistic to taste than the original phenol and unreacted Chlorine. Most of these odors are removed with Ozone treatment. Even some sulphur compounds such as hydrogen sulfide, mercaptans or organic sulphides can be oxidized to Sulfates with Ozone. Ozonation of water contaminated with Algae oxidizes and floats the Algae to the top of the reservoir. The ozone will also oxidize the metabolic by-products of the Algae and remove the undesirable odor and taste.
Ozone oxidizes the transition metals to their higher oxidation state in which they usually form less soluble oxides that are then easy to separate by filtration. Iron, for example, is usually in the ferrous state when dissolved in water. With Ozone it yields ferric iron which is further oxidized in water to Ferric Hydroxide - a molecule that is very insoluble and precipitates out. Other metals such as Arsenic (in the presence of Iron), Cadmium, Chromium, Cobalt, Copper, Lead, Manganese, Nickel, and Zinc can be treated in a similar way. At Ozone levels above 4 ppm however, Manganese will form soluble permanganate, showing up as a pink color.
Surface waters are generally colored by natural organic materials such as humic, fulvic and tannic acids. These compounds result from the decay of vegetative materials and are generally related to condensation products of phenol-like compounds; they have conjugated carbon/carbon double bonds. When the series of double bonds extend upwards of twenty, the color absorption shows up in the visible spectrum. Ozone is attracted to breaking organic double bonds. As more of these double bonds are eliminated, the color disappears. Surface water can usualy be decolorized when treated with 2 to 4 ppm of Ozone.
Oxidation of dissolved organic materials with Ozone results in polar and charged molecules that can react with Polyvalent Aluminum or Calcium to form precipitates. Treatment of surface water with up to 0.5 ppm of Ozone results in a decrease in turbidity, improved settleability, and a reduction in the number of particles. This treatment, referred to as pre-ozonation, destabilizes the colloid with a resulting reduction in the amount of coagulant needed to produce a clear filtrate. Ozone will degrade many organic compounds, such as sugars, phenols, alcohols, and as it degrades these materials it turns again into Oxygen.
When comparing disinfection efficiency, Ozone is 25 x more effective than Hypochlorous acid (HOCl), 2500 x better than Hypochlorite (OCl) and 5000 x more than Chloramine (NH2Cl). These results are measured from the comparison of CT constants - the Concentration x Time needed to kill 99.99% of all micro-organisms. Chlorine reacts with organic materials to form organics containing Chlorine such as Chloroform, Carbon Tetrachloride, Chloromethane and others, generally known as Trihalomethanes (THMs). Ozone reacts with Organics to break them down into simpler compounds. Ozone does not react significantly with THMs as they are more resistant to oxidation - it takes a very long time to achieve full oxidation. Some THMs are removed as a result of physical sparging by the aeration action of the ozone/air mixture.

Ozonation of Drinking Water and of Wastewater
By Christiane Gottschalk, Judy Ann Libra and Adrian Saupe, Hardcover 189 pages.

A Practical Guide to Understanding Ozone and its Application. The ozonation of compounds in water is a complex process. The mechanisms are very complicated, the parameters are many, but the possibilities of developing cost-effective treatment schemes for drinking water and waste water are large. Most books available today concentrate on either drinking water or waste water treatment, seldom dealing with both or explaining the essential differences. And only rare exceptions deal with the how-to of ozone experiments. This practical guide fills the gap. It contains the cumulative knowledge on experimental design, execution, interpretation and application. Drawing on experience gained from hours spent on laboratory research with drinking and waste waters, literature study, intensive discussion with leading experts, perplexed reflection and deep thought, the book offers practical help to avoid common pitfalls and unnecessary work. This book is aimed at professionals in industry and research currently using ozonation who want to optimize their system, as well as students beginning work with ozonation. It contains just enough information for beginners to start with, but goes rapidly to the detailed information that advanced readers need. Ozone in Water Treatment: Application and Engineering


By Bruno Langlais, David A. Reckhow and Deborah R. Brink (Editors),

Hardcover 592 pages.

With the advent of the Safe Drinking Water Act Amendments of 1986, many water utilities are reexamining their water treatment practices. Upcoming new regulations on disinfection and on disinfection by-products, in particular, are the primary driving forces for the big interest in ozone. It appears that ozone, with its strong disinfection capabilities, and apparently lower levels of disinfection by-products (compared to other disinfectants), may be the oxidant/disinfectant of choice. Many utilities currently using chlorine for oxidation may need to switch due to chlorine by-product concerns. Utilities using chloramines may need to use ozone to meet CT requirements. This book, prepared by 35 international experts, includes current technology on the design, operation, and control of the ozone process within a drinking water plant. It combines almost 100 years of European ozone design and operating experience with North American design/operations experience and the North American regulatory and utility operational environment. Topics covered include ozone chemistry, toxicology, design consideration, engineering aspects, design of retrofit systems, and the operation and economics of ozone technology. The book contains a "how to" section on ozone treatability studies, which explains what information can be learned using treatability studies, at what scale (bench, pilot, or demonstration plant), and how this information can be used to design full-scale systems. It also includes valuable tips regarding important operating practices, as well as guidance on retrofits and the unique issues involved with retrofitting the ozone process. With ozone being one of the hottest areas of interest in drinking water, this book will prove essential to all water utilities, design engineers, regulators, and plant managers and supervisors.

Impacts of Ozonation on the Formation of Chlorination and Chloramination By-Products
By Philip C. Singer, Gregory W. Harrington, Gretchen A. Cowman, Marla E. Smith, Daniel S. Schechter and Lori J. Harrington (Editors), Paperback, 311 pages.

Presents a report evaluating the impact of ozonization on disinfection by-product formation from chlorination and chloramination in a number of different types of waters, under a variety of water quality conditions representative of conditions in the waterworks industry. Information is presented in sections on experimental procedures, experimental results, and discussion, with appendices on protocols and experimental conditions. Results of this research indicate that ozonization followed by chloramination can be a very effective strategy for the control of halogenated disinfection by-products.

Optimizing Ozonation for Turbidity and Organics (Toc) Removal by Coagulation and Flocculation
By William Becker, Charles R. O'Melia and William C. Becker, Paperback 236 pages.

Just let me know if any special question,
with best regards

Martin Hochleithner
---
Hello,
here are the actual AquaTech NEWS and our new offer of the month (February 2003):
Fish scaling made fast and easy, with:
Fish scaling device 230 V/50 Hz, 0.1 kw, EUR 790,-

Plexiglas Splash-Cover, EUR 90,-

All Prices in Euro ex works, VAT excl.
This fish scaling device is well protected from spray water, safe in operation and securely insulated, tested to 4000 V. The motor can be used continuously. The machine LxWxH of 23x24x19 cm with a weight of 9 kg, can be connected to a grounded or non-grounded wall socket. The laminated, flexible axle (160 cm long) consists of two layers of steel, one layer of insulating compound and one layer of plastic. The ball bearings in the top, with which the fish is scaled, are waterproof and all outside parts are rustproof made from stainless steel. The device is supplied completely with handle, feets, 160 cm cable and plug.
As accessoire a 6 mm strong plexiglas cover (LxWxH: 84x50x29 cm) is available, under which the fish can be scaled to avoid spraying of scales during scaling.
New Books:
Nephros: Biology and Fishery
By Andy Read
Binding: Hardcover
Publication date: January 2003
Responsible Fisheries in the Marine Ecosystem
By Michael Sinclair, G. Valdimarsson (Editors), et al.
Binding: Hardcover
Publication date: December 2002
Aquatic Telemetry (Developments in Hydrobiology)
By Eva B. Thorstad, Ian A. Fleming, Tor Fredrik Naesje
Binding: Hardcover
Publication date: November 2002
Price: $ 106.00
The Economics of Marine Resources and Conservation Policy: The Pacific Halibut Case Study with Commentary
By James A. Crutchfield and Arnold Zellner (Editors)
Binding: Hardcover, 42 pages.
Publication date: January 2003
Price: $ 60.00
Hierarchical Perspectives on Marine Complexities
By Spencer Apollonio
Binding: Hardcover, 320 pages.
Publication date: November 2002
Price: $ 59.50
Aquatic Genomics: Step Toward a Great Future
By Nobuyoshi Shimizu, T. Aoki, I. Hirono, F. Takashima (Editors)
Binding: Hardcover
Publication date: December 2002
Price: $ 165.00
Ecological Aquaculture
By Barry A. Costa-Pierce
Binding: Hardcover, 320 pages.
Publication date: January 2003
Price: $ 110.00
Diseases of Finfish in Cage Culture
By P.T.K. Woo, D.W. Bruno, L.H.S. Lim (Editors)
Binding: Hardcover, 320 pages.
Publication date: November 2002
Price: $ 149.00
Tetras and other Characins
By Mark Phillip Smith and Michele Earle-Bridges (Illustrator)
Binding: Paperback, 96 pages.
Publication date: November 2002
Price: $ 7.95
Marine Fish (Nature Kids)
By Pat Slater
Binding: Library Binding, 52 pages.
Publication date: November 2002
Price: $ 19.95
The Life Cycle of a Salmon (Life Cycles)
By Lisa Trumbauer, Gail Saunders-Smith (Editor)
Binding: Library Binding, 24 pages.
Publication date: January 2003
Price: $ 14.60
Trout from Small Streams
By Dave Hughes
Binding: Paperback, 176 pages.
Publication date: January 2003
Our Price: $ 11.87 - You Save: $ 5.08 (30%)
Trout at Ten Thousand Feet: Reflections of a Passionate Fisherman
By John Bailey
Binding: Hardcover, 176 pages.
Publication date: January 2003
Our Price: $ 13.97 - You Save: $ 5.98 (30%)
Flyfisher's Guide to Freshwater Florida
By Larry Kinder
Binding: Paperback, 520 pages.
Publication date: January 2003
Our Price: $ 18.87 - You Save: $ 8.08 (30%)
The Complete Idiot's Guide to Sharks
By Mary Peachin
Binding: Paperback, 360 pages.
Publication date: December 2002
Our Price: $ 13.27 - You Save: $ 5.68 (30%)
We are present, at:
International Trade Fair for Aquaculture, Professional Fishing, Angling and Aquaristic.
AQUA-FISCH in Friedrichshafen on Lake Constance, Germany, New Exhibition Ground (Hall A2) Booth 303, from 27. February to 2. March 2003.
The entrance fees are EUR 8,- per person and day, but if you want to attend the exhibition, we pay for you and send you 2 TICKETS for FREE. Just let us know your full name and adress.
Hope to welcome you on our stand in Fridrichshafen,
with best regards
Martin Hochleithner
---
Dear Reader,
here are the actual AquaTech NEWS and our new offer of the month (January 2003):
No longer any problem or injury while opening oysters and other bivalves, with:
Oyster opener EUR 160,-

All Prices in Euro ex works, VAT excl.
Opening oysters with a knife can be difficult and dangerous. One slip or miscalculation and there's a good chance of serious injury. We can offer a final solution for the problem of opening oysters (and other bivalves). Our opener helps you out of whatever difficulty or awkwardness often accompagning you suring your meetings or circumstances and quickly and easily opens oysters, clams and other bivalves. It saves labour costs and anyone in your operation, restaurant or kitchen can shuck oysters without training. The (15 x 30 cm) ground plate of the opener is in cast aluminium which will keep treatment during live, the handle in polypropylene and the rest in stainless steel.
Production of Aquatic Animals: Crustaceans, Molluscs, Amphibians, and Reptiles
By C.E. Nash (Editor), Hardcover, 244 pages (1991).
This book provides a comprehensive description of the production and husbandry of aquatic animals, in particular the most important farmed species of crustaceans, molluscs, amphibians, and reptiles. The farming of fish is the subject of a parallel volume. It is directed at both academic and non-academic readers, especially those with a broad interest in agriculture, and animal husbandry in particular. Each chapter offers a balance of information on current world farming production, principles and practices of husbandry, and key research areas which made farming possible or which are still constraining further development.
Molluscan Shellfish Farming
By Brian E. Spencer, Hardcover, 272 pages (2002).
Invaluable commercial information to farmers, managers, equipment and feed suppliers, to marketing, sales, and trading personnel, as well as to libraries and other research establishments where aquaculture is studied or taught.
Estuarine and Marine Bivalve Mollusk Culture
By Winston Menzel (Editor), Hardcover, 376 pages (1991).
This book presents the biology, culture techniques, research and development, and future of the fishery of some of the most important bivalve mollusks cultured throughout the world. The book emphasizes those species that are truly cultured during some part of their life cycle rather than those that are harvested from natural populations. Graphs and figures summarize fisheries information and provide quick access to important production figures. Species covered include oysters, soft-shell and hard-shell clams, scallops, mussels, pearl oysters, razor clams, cockles and giant clams. Geographic areas featured include United States, Mexico, South and Central America, Europe, India, Japan, China, Philippines, Australia, New Zealand, and the coral atolls of the Pacific Ocean. This book brings together the lifetime efforts of the editor to characterize and improve bivalve mollusk culture worldwide. Aquaculturalists, private oyster and bivalve culturalists, and fisheries scientists will find this book to be an invaluable guide to bivalve mollusk culture.
The Mussel Mytilus: Ecology, Physiology, Genetics and Culture
By Elizabeth Gosling (Editor), Hardcover, 590 pages (1992).
Mussels, of the genus Mytilus are among the commonest of marine molluscs and constitute an important element in the ecology of coastal waters. The mussel's sessile habit makes it suited to cultivation and as filter-feeder an effective concentrator of trace toxic substances. They are thus excellent biomonitoring organisms of coastal water quality. The mussel has been extensively used in experimental studies and a vast body of data on its use in fundamental physiological, biochemical, genetic and toxicological investigations is available. More recently this knowledge has extended into the newer fields of nutrition, environmental monitoring, toxicology, disease, population genetics and biotechnology. This book presents a thorough compilation of state-of-the-art information on mussels in the form of critical review papers written by leading authorities in the field. For workers involved in both research and practical aspects of the biology.
The Oyster: A Popular Summary of a Scientific Study
By William K. Brooks and Kennedy T. Paynter (Intro.), Paperback, 230 pages (1996).
This reprinting of a book first printed over a hundred years ago is an enjoyable, if somewhat depressing review of the managment and mismanagement of the oyster resources of the Chesapeake Bay. The first half is a review of the biology, and the second goes into all of the politics and problems of trying to manage an open fishery. Much of what is said rings true today.
Heaven on the Half Shell: The Story of the Northwest's Love Affair with the Oyster
By David G. Gordon, Nancy E. Blanton, Terry Y. Nosho, Kenneth K. Chew, Paperback, 160 pages (2001).
This title is the true story of oyster farming in the Pacific Northwest. Entertaining text and fascinating photos draw readers into the world of pioneering aquaculturists, scientists, and oyster connoisseurs who have shaped this unique industry over the course of 150 years. Eighteen oyster recipes, ranging from the time-honored Hangtown Fry to the nouvelle Pesto Roasted Oysters, round out this lively portrait of the bivalve that has influenced the economies and cultures of the Northwest.
Evergreen Pacific Shellfish Guide
By J. D. Wade, Spiral-bound, 112 pages (2000).
Learn about the different varieties of clams, the how and where of trapping Dungeness crabs, and how to "shuck" an oyster. Discover the gourmet delicacy of Mediterranean mussels and the best time of year to harvest these shellfish. Illustrations and color photos will help you understand all the info available in this complete guide for shellfishing. Become educated on some of the environmental issues that will determine whether our Pacific Northwest smorgasbord of shellfish will be available for succeeding generations. And let the author share his favorite shellfish recipes with you. All this along with charts and beach listings will help in making your next trip to harvest shellfish a great success.
Clams: How to find, catch, and cook them
By Curtis J. Badger, Paperback, 80 pages (2002).
This practical, illustrated how to book describes the best ways to clam, including where to find the creatures, what equipment to use, and how to collect and cook them with dozens of tasty clam recipes included. The author, a veteran clammer along Virginia's clam rich Eastern Shore, also examines the natural history of clams and answers frequently asked questions about them.
Recipes for Sea Food: How to prepare and serve Fish, Oysters, Clams, Scallops, Lobsters, Crabs, and Shrimp
Paperback, 164 pages (2001).
Originally published in 1913, this book contains recipes on how to prepare and serve fish, oysters, clams, scallops, lobsters, crabs and shrimp. Additionally: An Expert Treatise on Fish as a Food - Advice to the Cook - Time Tables for Cooking - Tables of Measures and Proportions - Rules for the Kitchen - Terms Used in Cooking - Practical Points - Household Hints - Extracts from Game Laws.
With best wishes for success and prosperity in the New Year 2003
Martin Hochleithner
AquaTech
http://www.aquatech.8m.com
Falls Sie unsere Neuigkeiten lieber in deutsch erhalten möchten, lassen Sie es uns bitte wissen! Danke ;-)