AquaTech
News 2010
Make this site your start page now
Hit CRTL + D to bookmark this page!
---
Hello,
here are the actual AquaTech NEWS and our special offer of the 4th quarter 2010:
Produce now your own ecologic electricity, with -
Turbines for low pressure heads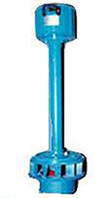 This turbines are for low heads (1,5 m) and a water flow of 35-130 l/s. They deliver 200-1000 Watt (110 or 220 Volt AC). The included regulator secures for a constant power and frequence. The delivery includes: Turbine with generator, regulator with heater. As accessoire are available: canal- and suction pipes.
| | | | |
| --- | --- | --- | --- |
| Typ | NT-200 | NT-500 | NT-1000 |
| Power W | 200 | 500 | 1000 |
| Head m | 1,5 | 1,5 | 1,5 |
| Flow l/s | 35 | 70 | 130 |
| Price EUR | 990,- | 1.990,- | 2.990,- |
---
Turbines for medium pressure heads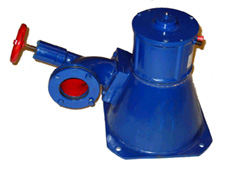 This turbines are for medium heads (max. 6-17 m) and a water flow of 6,4-30,0 l/s. They deliver 200-2000 Watt (220 Volt AC). The included regulator secures for a constant power and frequence. The delivery includes: Turbine with generator and regulator.
| | | | | |
| --- | --- | --- | --- | --- |
| Typ | MT-200 | MT-500 | MT-1000 | MT-2000 |
| Power W | 200 | 500 | 1000 | 2000 |
| Head m | 6 | 11 | 11 | 17 |
| Flow l/s | 6,4 | 9 | 23 | 30 |
| Price EUR | 990,- | 1.990,- | 2.990,- | 3.990,- |
---
Turbines for high pressure heads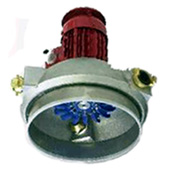 This turbines are for high heads (2-70 m) and a water flow of 0,5-6,0 l/s. They deliver 15-1000 Watt (24 Volt AC). The included regulator secures for a constant power and frequence. The delivery includes: Turbine with generator. As accessoire are available: direct- and alternate current converters, as well as nozzle valve with manometer.
| | | | |
| --- | --- | --- | --- |
| Typ | PT-100 | PT-340 | PT-1000 |
| Power W | 15-100 | 100-340 | 150-1000 |
| Head m | 2-35 | 7-35 | 12-70 |
| Flow l/s | 0,5-3,5 | 0,5-3,5 | 0,5-6,0 |
| Price EUR | 1.990,- | 2.990,- | 3.990,- |
Larger water turbines, on request.
All prices in Euro ex works, VAT excl.
Just let me know if there is any special question,
with best regards

Martin Hochleithner

---
Dear Reader,

here are the actual AquaTech NEWS and our special offer of the 3rd quarter 2010:

Actually we can offer you economic ice machines (for 230/400 V 3-phase, R404A) air cooled for an ambient air temperature of 6-38 °C, with high capacity* as follow:

With integrated (40 resp. 210 kg) storage bin (crush ice 5-10 mm at -0.5 °C) -
Typ BE130 (130 kg/day) 0,50 kw, EUR 3.990,-
Typ BE350 (350 kg/day) 1,10 kw, EUR 4.990,-
Without integrated storage bin (flake ice 2-3 mm at -8.0 °C) -
Typ SE600 (600 kg/day) 1,75 kw, EUR 6.990,-
Typ SE1500 (1500 kg/day) 6,70 kw, EUR 9.990,-
Typ SE2400 (2400 kg/day) 9,80 kw, EUR 14.990,-
Typ SE3000 (3000 kg/day) 10,5 kw, EUR 19.990,-
*Capacity in 24 h at 15 °C water and 25 °C air temperature.
All prices in Euro ex works, VAT excl.
Fish Processing Technology
By G. M. Hall (Editor), Hardcover, 292 pages (1996).
Written as an overview of the field for industrialists wishing to improve and diversify their operation, provides coverage of modern aspects of traditional fish processing technologies, and practical descriptions of important new areas. The first five chapters cover fish biochemistry affecting processing, curing, surimi and fish mince, chilling, freezing, and canning. The final four chapters focus on the increasing globalization of the fish processing industry and the demands, from legislation and the consumer, for better quality and safer products.
Seafood Safety, Processing, and Biotechnology
By Fereidoon Shahidi, Yvonne Jones and David D. Kitts (Editors), Paperback, 266 pages (1997).
Research and development of seafood continues to be productive in terms of new and improved products for both food and non-food purposes. The use of biotechnology, microbiology, computer modeling and advanced analytical techniques has led to improvements in processing and product safety. This recent book provides extensive new information on these developments. The 25 reports were prepared by food scientists specializing in seafood. The reports are well illustrated with numerous schematics and some micrographs. Extensive reference data is provided in tables and graphs.
Safety and Quality Issues in Fish Processing
By H. Allan Bremmer (Editor), Hardcover, 507 pages (2002).
Summarizes important new research on improving quality in fish processing. Covers key processing and preservation technologies ranging from traditional fish drying to high pressure processing. Useful for industry technologists, consultants, researchers, and graduate students, this work surveys issues and solutions in safety and quality in the fish processing industry, with sections on ways of ensuring safe products, aspects of fish quality, and improving quality throughout the supply chain. HACCP systems are covered in depth, and there is material on identifying and controlling hazards from pathogens, toxins, parasites, and heavy metals. Methods for modeling and predicting shelf life are examined, and processing and preservation technologies are covered.
Seafood Enzymes: Utilization and Influence on Postharvest Seafood Quality
By Norman F. Haard and Benjamin K. Simpson (Editors), Hardcover, 681 pages (2000).
There are two main reasons to study enzymes from aquatic animals. First is that, though many of the enzymes are also found in terrestrial life forms, they may exhibit vastly different properties with respect to stability, temperature optimum, secondary substrate, and other features because of adaptation to organisms living in various habitat conditions. The other reason is that seafood spoils as quickly when it is microbially sterile as when not, indicating that the spoilage is due to action of native enzymes rather than outside pathogens, and food scientists need to take that into account when attempting to protect seafood quality. Contributors from many of the seafaring nations discuss the different between seafood enzymes and others, a number of specific enzymes, their role in food quality, controlling enzyme activity in seafoods, and industrial applications of the enzymes.
Just let me know if there is any special question,
with best regards
Martin Hochleithner
---
Hello,
here are the actual AquaTech NEWS and our special offer of the 2nd quarter 2010:
Actually we can offer waterproof pocket testers for aquaristic and aquaculture for a low price as follow -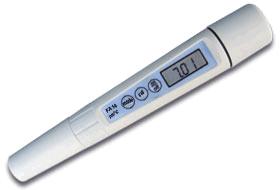 Tester for Conductivity, EUR 30,-
Tester for Salinity, EUR 30,-
Tester for PH-Value, EUR 50,-
Tester for PH-Value + Temperature, EUR 70,-
Tester for Redox-Potential, EUR 90,-

All prices in Euro ex works, VAT excl.
These waterproof (IP-67) and pocket sized testers (153 mm long, 24 mm diameter, weight just 45 g) with digital display are ideal for aquaria or aquaculture and any other field applications. There are different models with replaceable electrode and automatic temperature compensation available that read conductivity or salinity (0-1999 µS EC or 0.0-199.9 ppm TDS), pH-value and temperature (0.00-14.00 pH and 0.0-50.0 ºC) or redox potential (± 1000 mV ORP) at an affordable price. The tester are factory calibrated, but can be manually calibrated and measurements are highly accurate (0.1 or 2 % or mV) with high resolution (1.00 to 0.01). The modular design allows easy electrode and battery replacement. A rugged splash-proof and floating casing prevents water infiltration. All the testers work with common batteries (3 x 1.5 V) and have a long live.
New Products:
WATERPROOF MULTIPARAMETER HANDHELD MONITORING INSTRUMENT for professionals, EUR 1.990,-
The rugged design and fieldworthiness of this new professional instrument allows you to perform your job with confidence even in the harshest field conditions or in the labour, with the lowest overall cost of ownership. It accommodates any combination of interchangeable probes, cable, and accessory, which reduce down-time and keeps the meter ready whenever and wherever you are. The rugged cables are available in 4, 10, 20 or 30 meter length with connector and probe with sensors for PH/ORP/Temperature and Conductivity/Salinity/Dissolved Solids and Dissolved Oxygen/Barometric Pressure, and (for fresh water only) Ammonium, Nitrate or Chloride. This compact handheld includes multiple languages, detailed GLP data, on-screen help functionality, auto-buffer recognition, milspec connectors, re-cal prompts, auto-stable and security passwords to help make your job easier. An easy-to-use software to manage all your data, set up instruments, or conduct real-time studies is included. View graphical and tabular data. Features are: Rubber over-molded IP-67 water proof case; Backlit display and keypad; Graphic display with detailed help; 2,000 data-set memory with GLP event logging; Interval or singleevent logging capability; User-upgradeable software via USB; USB connection also powers the instrument.
Water Quality Control Handbook
By E. Roberts Alley. Hardcover (2000).
This handbook is intended to provide industrial, governmental, and consulting environmental practitioners a quick reference guide to all major areas of water pollution control. Among the topics discussed are the physical, chemical, and biological characteristics of wastewater; monitoring, sampling, and testing methods; the modeling of the effects of pollutants on the environment; effective management, including the establishment of policies and proper documentation; applicable water pollution regulatory standards; and the theory, design recommendations, and practical suggestions for various water pollution control systems.
Standard Methods for Examination of Water & Wastewater
By Arnold E. Greenberg et al. Hardcover (1999).
The bible of water analysis and the book of standards! Comprehensive testing of all major pollutants, giving precise instructions for proceedures, preparation of studies as well as current reference data. Every conceivable method for the chemical, biolgical and physical analysis of fresh, brackish and seawater, biological contaminants and pollutants, are covered in detail. Includes sampling techniques, statistical methods, laboratory apparatus and reeagents, safety setup and calibrations, determination of general water quality parameters, metals, automated analysis, toxicity tests for aquatic organisms, aquatic botany (inclusive plankton sampling), and a special section on the identification of aquatic organisms with color plates. Now in its 20th edition, this text presents significant improvements of methodology and enlarged its scope to include techniques suitable for examination of many types of samples encountered in the assessment and control of water quality and water pollution.
Pond Aquaculture Water Quality Management
By Claude E. Boyd et al. Hardcover (1999).
The only hope of supplying the world's ever-increasing demand for aquatic food products is through aquaculture, and the vast majority of this is conducted in ponds. Although pond aquaculture may appear at first to be an archaic method of growing aquatic animals, it is one that is consistently profitable when the pond is managed properly. The most important aspect of pond management is the maintenance of adequate environmental conditions for good growth and health of the animal under culture. Water quality in ponds also extends into the areas of environmental protection and food quality and safety, which are increasingly important in today's world. This book provides the most complete, up-to-date account of water quality and its management in aquaculture ponds. It provides background information on the physical, chemical, and biological environment of pond aquaculture, and illustrates how the proper balance of these factors is the essential ingredient for successful production of fish and other aquatic animals. Management techniques for the control of water quality and productivity include liming, fertilization, mechanical aeration, water exchange, and the use of algicides and herbicides. The authors examine the effects of pollution on aquaculture and the validity of current criticisms by environmentalists. This book will be of great benefit to students, extension agents, policy-makers, government officials and the commercial aquaculture industry.
Just let me know if there is any special question,
with best regards
Martin Hochleithner
---
Dear Reader,
here are the actual AquaTech NEWS and our special offer of the 1st quarter 2010:
Actually we can offer you carp pituitaries for a very special price as follow -
1 Gram Carp Pituitary Glands (whole, dryed), EUR 190,-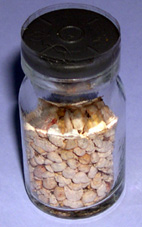 In nature, reproductive development and spawning in finfish is controlled by environmental factors such as temperature, photoperiod, and presence of spawning substrate. In aquaculture, it is not always possible or economically feasible to replicate nautral conditions especially as many species are now grown some distance from their original geographic location. Thus, endocrine or a combrination of endocrine and environmental manupulations are utilized to facilitate reproduction. In the last decade significant research has been conducted worldwide on ripening fish sexuality using various preparations.
Carp Pituitary Glands are whole acetone dried pituitaries of carps, which and can be used to speed up maturation (induced maturation) as well as the spawning process itself (induced spawning). Intramuscular injections are highly effective in increasing the incidence of spawning as well as possibly increasing egg take in certain species. The potential economic benefits of taking eggs earlier in a given season or in fact eliminating seasonality altogether in certain climates and regions are significant. Carp pituitary extract contains a variety of pituitary hormones, including gonadotropins, which are effective for the induction of final maturation and ovulation in various fish species. The pituitaries are harvested bevore the spawning season from mature carps with a body weight of more than 1 kg. There are about 300-400 pituitaries per gram. Carp pituitaries are pulverized and than suspended in distilled water or physiological saline solution (0,9 %) and injected intramusculary at a dose of 1-10 Milligram/kg fish.
All prices in Euro ex works, VAT excl.
Carp and Pond Fish Culture: Including Chinese Herbivorous Species, Tench, Pike, Pike-perch, Catfish, and Goldfish.
By Laszlo Horvath, Gizella Tamas and C. Seagrave (Contributor), Hardcover, 158 pages.
A detailed yet practical guide to the principles and procedures of cyprinid fish farming using traditional and modern pond culture techniques. Describes the complete cycle of fish culture from selection and spawning of broodstock through methods of early fry rearing to growing and harvesting. A special chapter is devoted to the propagation of other pond fish species including: Chinese herbivorous species tench, gold fish, pike, sander and wels-catfish. Copiously illustrated.
The best wishes for the New Year,
with kind regards
Martin Hochleithner
AquaTech
www.aqua-tech.eu
[News 2009 - News 2008 - News 2007 - News 2006 - News 2005 - News 2004 - News 2003 - News 2002 - News 2001 - News 2000]