AquaTech
News 2009
Make this site your start page now
Hit CRTL + D to bookmark this page!
---
Hello,
here are the actual AquaTech NEWS and our special offer of the 4th quarter 2009:
Due to larger quantities in stock we can actually offer you our "Maritime Technic" pontoon system for a special price (- 25 %):
1 m2 Floating Dock System (consisting of 4 pontons 50x50x50 cm + 4 bolts), EUR 138,-

Now the pontoons and bolts are in stock at sky-blue (RAL 5015) or gras-green (RAL 6010).
Min. order for this special offer are 8 m2.
All prices in Euro ex works, VAT excl.
New Products:
For our Maritime Technic - Pontoon System we offer now also solar lights, which increase extremely the attractivenes and visibility of the floating dock system by night and makes it more visible and save. The lights with an outside diameter of 8.8 cm with bright LED-lamp (switchable in white, blue, green, yellow, orange and red) are water proof embedded in Polycarbonate and have an integrated solar cell and a rechargable battery.

They are practically maintenance free and switch automatically on at dusk and off at daw. The lighting time is up to 12 h and the visibility up to 100 m. Assembling is very easy directly on the side screws (available as accessory), because no cables are needed.
We exhibit:
Austrian Boatshow from 04.-07. March 2010 in Tulln.
More information at - www.boot-tulln.at
Just let me know if there is any special question,
with best regards
Martin Hochleithner
---
Dear Reader,
here are the actual AquaTech NEWS and our special offer of the 3rd quarter 2009:
Used equipment for a low price -
1 Diesel-Outboard motor (Type Ruggerini RF129 Fido), 12 HP, 540 ccm, 3000 RPM, with electro- and handstart (BD ~ 1988, used approx. 100 h), EUR 2.990,-

1 RGP-Service pedestal (for boat-marina), size LxWxH approx. 55x30x65 cm, with illumination on side, 4 sockets with switch and fuse as well as 4 water valves, EUR 390,-

1 RGP-Working boat (prototype), dimensions outside approx. 6,0x1,5x0,6 m, inside approx. 5,0x1,0x0,5 m, with 2 side stabilisators and seating banks in front and back, EUR 990,-

1 RGP-Transport container (for live fish), size LxWxH 120x75x75 cm, approx. 650 l volume, with cover, lid, handles, valve and sieve, as well as circulation pump system (12 V/DC), EUR 290,-

1 Plankton feeder (for fish fry), size LxWxH approx. 66x41x62 cm, capacity up to 10 kg frozen plankton, with 2 food hoppers, timer, chiller (12 V/DC) and 16 outlet valves (for 16 tanks), EUR 2.990,-

1 Universal feeder (for 1-12 mm pellets), with timer control box and separate solar panel (without spreader), 75 l feed hopper with cover and tube holde, EUR 290,-

6 Cage nets (for fish fry), size LxWxH approx. 2,0x2,0x2,0 m, approx. 8 m3 volume, closed on all sides but on one side with entrance zipper, mesh size 1.3 or 1.8 mm, each EUR 290,-

9 Solar moduls (Typ Arco M65), size LxWxH approx. 108x33x4 cm, weight 4.8 kg, 42 Wp (+/- 10 %) selfregulating, with 30 silicium cells and 2 connection boxes (for Direct Current), each EUR 90,-
All prices in Euro ex works, VAT excl.
Secondhand books for reasonable prices!
We are present:
AquaNor from 18.-21. August 2009 in Trondheim/Norway at Hall C, Stand 211
Until the show, we will enclose to every order/delivery 2 tickets (value each NOK 300,-).
More information at www.nor-fishing.no
Please note that we have closed from 18. July to 16. August due to vaccation.
You can reach me during this time directly on my mobile phone +43/664/1048297
Nice holidays,
Martin Hochleithner
---
Hello,
here are the actual AquaTech NEWS and our special offer of the 2nd quarter 2009:
Algae problems are not necessary and can be reduced or avoided with -
Digital ultrasound algae destroyer
Algae are problematic in many water areas and can create hughe problems and high costs in industry, agriculture and other fields wher water is used. Algae also make ponds and pools to ugly holes and can settlke on boat hulls - where expensive antifouling coatings are necessary. This digital ultrasound devices (connection 220-240 V/47-63 Hz AC or 12-32 V/1,5-2,0 A DC) send to the water (pond, pool or lake) special ultrasonic sound waves in periodic time scales trough the transducer in an ange of 180° on the front side. The wave length is depending on the type of the device and the mentioned distances are based on average values which can vary according to local circumstances, like water quality and water plants etc. In every algae the is a micoscopic liquid bubble called vacuole. Our digital ultrasound device force that to swing which burst and finaly kill the algae. But this is specific to different alage species. Single cell algae are killed after a treatment of 7-10 days, but filametous algae need a longer treatment and die after 3-7 weeks. In which time the water will get clear depends also on the biological balance in the water. But also the quality and capacity of the eventually installed filter plays an important role. Additionally, with the ultrasound also the biological film (which builds up as sludge on the bottom or wall) in your water will be reduced and remove the base for many diseases pathogenes like fungi or bacteria etc. The created ultrasound are not tho hear for humans. If the device is in operation you may hear just a little ticking. But some other animals like dogs can hear it and may stay away from the device. Other is the whole with fishes, which some customers report prefere the ultrasound and stay nearby may because their skinn is cleande from parasites. Fishes feel not only better but also grow faster and are healtier with the ultrasound device.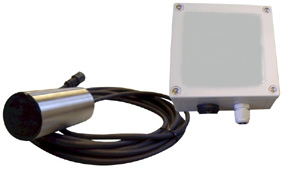 Typ PT-05 Digital ultrasound algae destroyer, range to 4-5 m, EUR 490,-
Typ PT-10 Digital ultrasound algae destroyer, range to 10-12 m, EUR 990,-
Typ PT-20 Digital ultrasound algae destroyer, range to 20-25 m, EUR 1.490,-
Typ PT-50 Digital ultrasound algae destroyer, range to 100-150 m, EUR 1.990,-
All prices in Euro ex works, VAT excl.

The Ponder's Bible
By Gosta H. Lovgren and Gösta H. Lovgren, Paperback, 178 pages (2000).

The Pond Owner's Problem Solver: Practical and Expert Advice on Designing, Stocking and Managing Ponds
By John Dawes, Hardcover, 208 pages (1999).

Earth Ponds A to Z: An Illustrated Encyclopedia
By Tim Matson and Frank Fretz (Illustrator), Hardcover, 160 pages (2003).

Earth Ponds Sourcebook: The Pond Owner's Manual and Resource Guide
By Tim Matson, Paperback, 176 pages (2003).

How to Build Ponds and Waterfalls: The Complete Guide
By Jeffrey Reid, Paperback, 80 pages (1998).

New E-mail:

Please note that all our old e-mail addresses are no longer vallid.
From now on you can reach us only at aquatech@a1.net
Please correct and update your address book!

Just let me know if there is any special question,
with best regards

Martin Hochleithner
---
Dear Reader,
here are the actual AquaTech NEWS and our special offer of the 1st quarter 2009:
New aquaria for holding of live fish and seafood in fish shops and restaurants etc.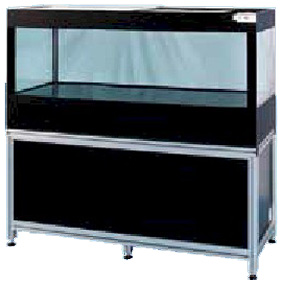 An aquarium should be seen as a complex grouping of elements functioning synergetically to maintain constancy of environmental characteristics, countering any variation whatsoever and simulating as far as possible the whole biological cycle that is present in nature and indispensable to the live of the aquatic animals. This professional range of aquariums are designed for holding of live crustacea or fishes at a working temperature of 10-30 °C and consists of double glass walls in which the two layers of glass are separated by a dry air gap. The aquaria are delivered as complete assembled units (IP55) with support frames (80 cm high, colour: black, white, grey or blue) with cover and lights, external mechanical/biological filter, protein skimmer, circulation pump and chiller with thermostate and UV-C.
The following models are available as standard:
| | | | | |
| --- | --- | --- | --- | --- |
| Modell | P-70 | P-120 | P-150 | P-200 |
| Dimensions (LxDxH) | 70x50x135 cm | 120x50x135 cm | 150x60x140 cm | 200x60x140 cm |
| Holding capacity | 5 kg | 15 kg | 25 kg | 35 kg |
| Price EUR | 2.990,- | 3.990,- | 4.990,- | 5.990,- |
All prices in Euro ex works, VAT excl.
Seafood Handbook. 1st Ed. Spiral-bound, 256 pages (July 2005).
The only professional seafood reference book available anywhere this Seafood Handbook contains over 100 species of finfish and shellfish from around the globe. It contains all the information an aspiring fishmonger needs and offers details on sourcing, cooking, nutrition, product forms and seasonal availability for each species and is formatted to be a quick and easy-to-use reference tool. If you want to meet new and interesting fish, this book is for you.
Seafood Handbook. 2nd Ed. Paperback, 288 pages (March 2009).
Updated to include a number of new species not previously include, Seafood Handbook, Second Edition remains the only professional seafood reference guide. Easy to use and comprehensive, this book covers the sourcing, buying, preparation, cooking, nutrition, names, and global supply information for more than 100 types of finfish and shellfish, with two oversized posters for quick reference. Professionals in the foodservice industry who need to make menu selections or purchase fish, and seafood buyers will benefit from this in-depth guide.
Wish you all the best in the year 2009,
with kind regards
Martin Hochleithner
AquaTech
www.aqua-tech.eu
[News 2008 - News 2007 - News 2006 - News 2005 - News 2004 - News 2003 - News 2002 - News 2001 - News 2000]