PROFESSIONAL FEEDERS with solar panel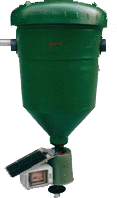 This "Solaris" Feeding System was designed and constructed to the latest specifications in the field of aquaculture economics by using the most modern components of present day technology.
The model "INTERVAL" is equipped with a solar panel, a feeding computer and accumulator (to balance weather depending days) which is mounted in a splash proof box (directly on the feeder) and can be adjusted exactly to feeding intervals, quantity and time. The daily feeding amount (1-5 mm Pellet) is adjustable from 0,1 kg up to 100,0 kg/day.
The model "SUPERSPREADER" is equipped with an adjustable sector and/or round spreader (radius adjustable approx. 2-8 m), and delivered with a larger solar panel and stronger accumulator.
The model "UNIVERSAL" has a larger outlet and can additionally be used for granulated seeds or meal feeds and pellets up to 12 mm.
The white or green feed hoppers are available in five sizes (for 15, 25, 45, 75 or 95 liter). As accessories a tube or ring holder hopper support is available.
All models are also available without solar panel and accumulator, for the connection to a central power supply with transformer and distributor box (for up to 1 resp. 12 or 24 feeders).