MICROPROCESSOR METERS for professional monitoring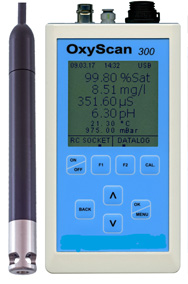 This improved meters were specially adapted for use in aquaculture and limnology. The compact (L x W x H 165 x 83 x 34 mm, approx. 305 g) splash-proof cover (IP 54), the plastic sensor (14 mm Ø, 150 mm long, with 1.5 m cable), the very long sensor life (approx. 2 years standby time), and the delivery with NiMH-batteries (2 x AA Mignon) and USB-cable with charger in transport case, make these meters perfect for field work or laboratory use. The large graphic multi-display makes the readings available clearly and quickly. The short polarization time (approx. 30 sec. max. 5 min.), the low flow current sensitivity (1 % at 5 cm/sec.), the high precision +/-1 digit (0.1 mg, 0.5 % or °C), as well as salinity correction, automatic air-pressure and temperature compensation (in the range of 5-40 °C) makes working easy. Automatic calibration with the calibration chamber (included) is an additional feature. Options include stainless steel sensors (4.7-5.4 mm), and other cable lengths available. To enable you assigning measured values geographically, these meters are available with or without GPS.
This modern devices have: an electronic compass, a data logger with adjustable start/stop time and measuring intervals between 5 sec. and 10 min., with automatic storage of all measured values ​​(approx. 3 months during battery operation, also mains operation possible), a large internal memory (32000 locations), and an individual measured value storage on key press with 1000 memory locations. Additionally, radio controlled (RC) switching outputs for standard RC sockets and acoustic signals, for up to 4 RC sockets with separate two-point control for oxygen (absolute or relative), conductivity, temperature or air pressure, two additional alarm outputs, which trigger a standard RC bell when the set values ​​are exceeded or subtracted, and two additional channels for optical and/or acoustic alarm on the meter. The power-saving graphics display (transflective with background lighting) with best readability even in direct sunlight, and adjustable contrast, activates automatically display and background lighting when the device is moved (can be switched off). The beep (alarm and key tone) volume and frequency is adjustable. PC-software for data visualization and data export available optionally (with free online software update).
The following models are available as standard:
Type/Model
"Outdoor"
"Laboratory"
Measurement:
Oxygen 0,00-25,00 mg/l and 0,00-250,00 %sat,
Temperature: 00,00-60,00 °C;
Air-pressure: 50,00-1150,00 mbar;
Oxygen: 0,00-25,00 mg/l and 0,00-250,00 %sat,
Temperature: 00,00-60,00 °C;
Air-pressure: 50,00-1150,00 mbar;
pH-value: 00,00-14,00 or
Redox-potential: -500-+500 mV;
Precision:
+/- 1 digit
(0,01 mg, 0,1 %, 0,1 °C, 0,5 mbar)
+/- 1 digit
(0,01 mg, 0,1 %, 0,1 °C, 0,5 mbar, 0,1 pH, 0,3 mV)
Options:
GPS;
Cable extensions.
GPS;
Cable extensions;
PH/Redox-sensor;
Stainless steel oxygen sensors;
Optical laser oxygen sensor with conductivity measurement;
Connection box for up to 4 oxygen sensors.