Electronic - Internet
FISH INFO SERVICE (06/26/1998)
Cage light is a bright idea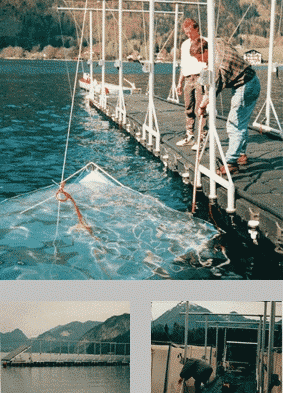 The new UWG-Solar Cagesystem from Aquaculture Technology is the result of years of tests in sea and freshwater.
The system, which can be used in lagoons, sea-bays, fjords, lakes and large ponds, works by attracting plankton (mainly copepods and cladoceres) using a light source in the centre of fine-meshed submerged fish cages.
The net-cages (2 x 2 x 2m) are made from highly resistant monofile polyester fabric with 0.3-2.0 mm mesh, furnished with a large zippered entrance and space for the electric cable. The net cage is stretched, free of folds, onto a strong inox or aluminium frame.
An efficient Solar-Generator is also supplied so that the system can be run in remote sites, and with facilities for connections to an electric source, it can be equipped with an electric transformer to avoid high voltages and the risk of electrical accidents.
Depending on the zooplankton abundance, the fish-stocking density (from the hatchling stage to fingerling size of 5 cm) can reach 5.000 Ind./m3, and survival rates of more than 90% have been achieved with various marine and freshwater fish species.
The company says there is less operational effort needed, apart from periodic cleaning of the cages with a portable high pressure cleaner. The system runs free of any environmental contamination; plankton consumption is minimal and does not affect the natural stocks.

Luces para jaulas: una brillante idea
El nuevo UWG-Solar Cagesystem de Aquaculture Technology es el resultado de años de investigaciones en el mar y en agua dulce.
El sistema, que puede ser utilizado en lagunas, bahías, fiordos, lagos y grandes estanques, atrae el plancton (principalmente copepodos y claroceres), utilizando una fuente luminosa en el centro de las jaulas de pescado sumergidas.
Las jaulas (2 x 2 x 2m) están fabricadas a base de material de "monofile polyester" altamente resistente, con 0.3-2.0 mm de malla, equipadas con una gran cremallera en la entrada y espacio para el cable eléctrico. La red de la jaula es estirada, sin pliegos en un marco de inox o aluminio.
Asimismo, también se suministra un eficiente Generador Solar, por lo que el sistema puede ser dirigido en lugares remotos y con servicios para conexiones a una fuente eléctrica, éste puede ser equipado con un transformador eléctrico para evitar altos voltajes y riesgo de accidentes eléctricos.
Dependiendo de la abundancia de zooplancton, la densidad del "fish-stocking" (desde el estado de "hatchling" hasta "fuingerling" con un tamaño de 5 cm) puede alcanzar 5.000 Ind./m3, y con varias especies de pescado de agua dulce y salobre se han conseguido porcentajes de supervivencia de más del 90%.
La compañía ha declarado que se necesita menos esfuerzo operacional, sin contar una limpieza periódica de las jaulas con un limpiador portátil de alta presión. El sistema no supone ninguna contaminación para el medio ambiente.; el consumo de plancton es mínimo y no afecta a los stocks naturales.
---
FISH INFO SERVICE (01/20/2000)
Aquaculture Technology introduces special knives
Aquaculture Technology says its special stainless steel knives and scissors are hard wearing and will therefore last a long time. The firm claims the knives can be used for many hours without any problem. The blades are reportedly finished by hand with high quality steel, which guarantees maximum cutting precision and easy sharpening. Both stiff and flexible blades are available, according to requirements. The firms says the ergonomic design of the handles makes them easy to use.
The blades used for the "flow-cut-technique" bear small curved individual cut edges. The teeth scratch the fish and the small individual cut edges make sure the fish is cut carefully. Thus, says Aquaculture Technology, an optimum combination of sawing and cutting is achieved. For cutting cold smoked fish fillets into thin slices a specific "salmon" slicer with a blade of extreme flexibility is used. To ensure this, the blades are made of specially hardened steels. The fish-scissors are made of forged and hardened tool steel and are wholly chromium plated.
Aquaculture Technology offers 3 special fish knife sets:
The START Fishknife Set includes: 1 Herring, 1 Flowcutt, 1 Fish, 1 Bone, 1 Strike, 2 Slaughter and 1 Filleting-knife, with blades from 6,5 to 21 cm.
The STANDARD Fishknife Set includes: 1 Herring, 1 Carp, 1 Fish, 1 Cooking, 1 Stitch, 2 Slaughter and 2 Fileting-knife, with blades from 4,5 to 26 cm.
The PROFI Fishknife Set includes: 1 Fishcut, 1 Eel, 1 Makerel, 1 Salmon, 1 Fish, 1 Gutt, 1 Skinning, 1 Bone, 1 Strike, 2 Slaughter and 1 Fileting-knife, with blades from 5,5 to 31,5 cm.
The COMPLETE Fishknife Set includes all 3 sets and the fin-scissor, (30 different special cutting instruments and a FREE steel knife ). All models are also available as single knives.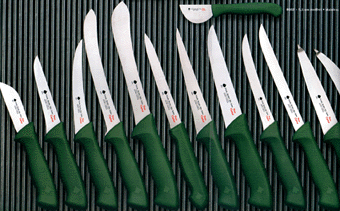 Aquaculture Technology introduce cuchillos especializados
Aquaculture Technology asegura que sus cuchillos y tijeras especiales de acero inoxidable son duros y resistentes para muchos años de trabajo. La firma ha indicado que los cuchillos pueden ser utilizados durante muchas horas sin ningún problema. Estas han sido terminadas a mano con acero de alta calidad, lo que garantiza una máxima precisión de corte y fácil afilamiento. Se dispone de cuchillas flexibles y duras, según los requisitos de cada cliente. La firma ha informado que el diseño ergonómico de los mangos hace que éstos sean fáciles de utilizar.
Las cuchillas utilizadas para la "flow-cut-technique" cuentan con puntitas individuales. Estas cortan el pescado cautelosamente. Por lo tanto se consigue una perfecta combinación de corte. Para cortar filetes de pescado ahumado en frío en finas rodajas se utiliza un cortador de "salmón" con una cuchilla de extremada flexibilidad. Para asegurar todo esto, las cuchillas son elabaoradas con acero especialmente endurecido.
Aquaculture Technology ofrece 3 conjuntos de cuchillos especiales para pescado:
El Conjunto START Fishknife incluye: 1 Arenque, 1"Flowcutt", 1 Pescado, 1 Espina, 1 "Strike", 2 Matanza y 1 Cuchillo de fileteo con cuchillas de 6,5 a 21 cm.
El Conjunto STANDARD Fishknife incluye: 1 Arenque, 1 Carpa, 1 Pescado, 1 Cocinado, 1 "Stich", 2 Matanza y 2 Cuchillos de fileteo, con cuchillas de 4,5 a 26 cm.
El Conjunto PROFI Fishknife incluye:1 Corte de pescado, 1 Anguila, 1 Caballa, 1 Salmón, 1 Pescado, 1 Vísceras, 1 Piel, 1 Espina, 1 "Strike", 2 Matanza y 1 Cuchillo de fileteo, con cuchillas de 5,5 hasta 31,5 cm.
El Conjunto de cuchillos para pescado COMPLETE incluye los tres sets y las tijeras para aleta (30 diferentes instrumentos especiales para corte y un cuchillo de acero GRATUITO). Todos los modelos son disponibles como cuchillos individuales.
---
FISH INFO SERVICE (07/04/2000)
New smoker from AquaTech

AquaTech has introduced a new, patented microprocessor controlled technology where all undesired smoke substances are removed but all durability and taste-giving matters are sustained. Besides smoking, with these indoor cabinets you can also cure, steam, cook, bake, roast etc. Larger systems (volume over 1000 litre) are also available.
These systems are completely different from traditional ones. They don't need a smoke generator and burner. Instead of a generator, they use a tank with liquid smoke that is brought to a pressure of 3-5 bar. Using this patented technology, liquid smoke will be spread via a ventilation system over nozzles and re-circulated. During this process steam and gas is made, which generates an invisible smoke. This "smoke" is physically identical to conventional smoke, with all durability and taste-giving substances (carbonyls, acids and phenols), but has no tar and other undesired matters (Benzo-a-pyren).
The complete system is controlled by a microprocessor and easily allows for programming of temperature, moisture, time etc. It can also save up to 99 programs (with 20 steps each). The actual and required parameters, as well as alarms etc. can be viewed on a digital display. For a fully automated cleaning process (without aggressive cleaners or personnel) all equipment is placed in the cabinet and a program is started.
Nueva ahumadora de AquaTech
AquaTech ha introducido un nuevo microprocesador patentado de tecnología controlada, en el que todas las sustancias de humo no deseadas son eliminadas, pero todas las materias que le otorgan gusto y durabilidad se mantienen. Aparte del ahumado, ésta máquina también puede curar, preparar al vapor, cocinar, asar, etc. Los sistemas de superior tamaño (con un volumen superior a los 1000 l) también estan disponibles.
Estos sistemas son completamente diferentes a los tradicionales, en cuanto a que no necesitan un generador o quemador de humo, debido a que en lugar de un generador, un tanque con humo líquido es preparado a una presión de 3-5 bares. Con esta tecnología patentada, el humo líquido es esparcido a través de un sistema de ventilación en toberas y reciclado. Durante este proceso se realiza una fase de humo y gas, la cual genera un humo invisible. Este "humo" es físicamente idéntico al humo tradicional, con toda la durabilidad y sustancias para el sabor, pero no cuenta con "tarphase" y otras materias no deseadas (Benzo-a-pyren).
El sistema completo es controlado mediante un microprocesador y permite una fácil programación de las temperaturas, la humedad, el tiempo, etc., y cuenta con hasta 99 programas (con 20 pasos cada uno). Los parámetros y las alarmas son mostrados en un display digital. Para el proceso de limpieza automática (sin tener que disponer de agresivos limpiadores o personal), todo el equipo es introducido en la máquina y se comienza el programa.
---
FISH INFO SERVICE (07/23/2001)
Electric Fishing Devices with Direct- or Impulse-Current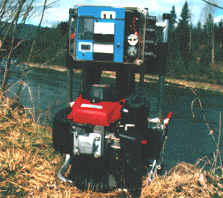 Safe and powerful electric fishing devices are already being used worldwide with successful results. In various and sometimes problematic areas of use, a wide range of devices was developed which will match nearly any requirements.
All devices are built to VDE-regulations and are TÜV-tested. The electric building corresponds to security class II. Therefore, all power delivering parts are double isolated and guarantee the best possible security for persons. A "Totmannswitch" (in Germany required) guarantees for additional security, so that all outlets of the device are without electric current if dangerous situations arise. The permanent excited generator and the high quality magnet materials guarantee a continous and reliable power. Each device will be tested mechanically and electrically completely and delivered with user manual.
Direct current creates usually a better anodic reaction as impuls current would do. But at extreme conductivities or for electric barriers with direct current, soon the borders are reached. As a result, powerful combinated (Direct-/Impulse-Current) devices were created, where the impulse frequency and volts can be adjusted (via motor turns or switch). The back carry units are compact lightweight systems with high outgoing power. Impulse devices are a little larger and have a little more weight than direct current devices.
AquaTech delivers net-, battery-, petrol-driven backcarry- or stand-devices with direct- and/or impulse current with an outgoing power of 250-11.000 Watt (5-160 kw/impuls at 25-100 Impulse/sec.), and a current of 300-960 Volt with a weight of 10-135 kg and for a conductivity of 50-10.000 µS.
---
Smoking equipment
Aquaculture Technology (AquaTech) markets all sorts of equipment to breed and process fish. From breeding to scaling machines, filleting machines, several kinds of smokers and vacuum packers, the company market almost everything one needs to operating a fish breeding and processing operation.

In direct relation to current delivery, AquaTech offers a multipurpose equipment to smoke fish, sausage, meat, poultry in the same oven. (Pictures of said equipment - closed and opened)
Up to 300 kg of fish or 200 kg of meat per batch can be smoked and the process takes up to 60 minutes to be completed. Further, the equipment is fuel versatile. It can be powered either by propane-gas or fuel-wood and delivered with both built in. It can operate cold-smoking or hot-smoking processes.
AquaTech proposes in its catalogue an alternative to the above described equipment. It is electricity powered and can handle the same quantities of raw materials - meat or fish as the previous system. It features electric smokers with double wall isolation (50 mm), pipe connection, heating coils and thermostat (50-250 °C), switches, and drip-pan etc.
For the purpose of this delivery we will consider the dual powered (propane-gas and fuel-wood) equipment to estimate investment and operating costs for a small scale smoking operations under the following conditions:

Operating conditions
Alternate batch of 300 kg of tilapia and catfish cold-smoked during 60 processing-minutes; 20 minutes interval to load one batch after the finished batch in a dual (wood and propane gas) powered AquaTech equipment (RS-300). Which means 6 (six) cycles per 8-hour working day to handling (300 kg x 6) = 1,800 kg per day of fresh tilapia and catfish. Considering the combined weight loss during brinning and the smoking process to be in average fifteen percent for both species of processed fish (tilapia and catfish), the final daily processed production would be: 1,530 kg. The following table summarizes operating costs:
Inputs

Daily (8 hours)

Monthly (24 days)

Yearly

Yearly costs (US$)

Tilapia (kg)

900

21,600

259,200

414,400

Catfish (kg)

900

21,600

259,200

466,560

Brinning (lt)

720

17,280

207,360

42,000

Gas (kg)*

11.5

276

3,312

1,596
Remark*: Propane-gas' consumption for AquaTech's RS-300 smoking equipment is approximately 1.92 kg per hour. The daily smoking process of 1,800 kg of fresh fish (per batch of 300 kg per 60 minutes' smoking cycle) would be consuming 1.92 x 6 = 11.52 kg of propane-gas per day. 25 kg of propane gas container cost around US$ 12 (in Benin).